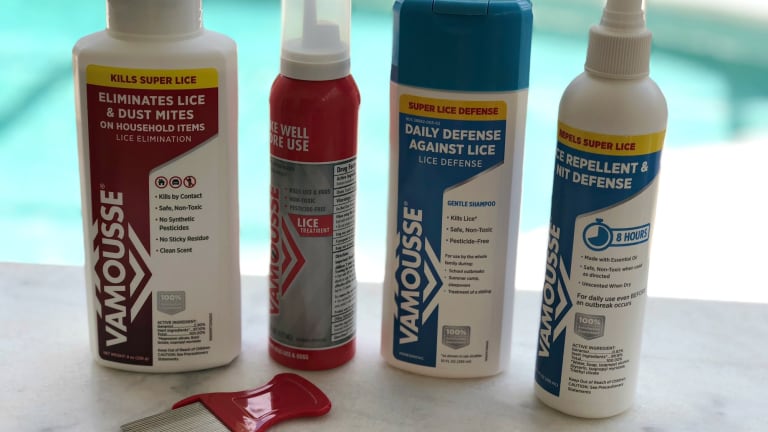 How to Protect Your Kids From Lice
Who wants to know how to protect your kids from lice? We all do, right? Even if a lice outbreak has never hit your house, you've probably lived in fear of it, especially if you have school age kids. Nobody wants to open up their child's backpack and find the dreaded lice letter. I shudder just thinking about it. And with good reason...Lice have come to our house to visit a couple times (thanks to shared sports equipment) and it was no small feat getting rid of it. Not only does it take time and money to eradicate those pesky bugs, but if it's during the school year, your child misses precious time in the classroom until they're lice free. And let's not forget about the rest of the family. Super thick manes tend to run in our family. Anyone who's dealt with lice knows how much trickier it can be if you have a lot of hair.
How to Protect Your Kids from Lice
So, all that being said, this year, I plan to be prepared thanks to Vamousse! I mean the beginning of the school year is hectic enough. Getting back into a routine after a less scheduled summer can be tough. No parent has time to worry about a potential lice situation. That's why Vamousse Lice Defense Daily Shampoo is in my little ones' bathrooms. I've been trying to get as much done in advance this year as possible, so the first day back at school is as stress free as it can be for the kids AND their mama. That means sneaking small things into our summer "routine" so it won't feel like such a shock to the system when the school year is back in full swing. I included a few of my favorite tips for getting kids ready for the school year below. Start them a few weeks before the first day of school to cut down on that BTS stress load! As long as you're still fitting in some summer fun (we've been living in the pool, for instance), they won't even notice...
How to Get Your Kids Ready for the School Year
1. Have them pick their outfits out at night. By the time school starts it will be second nature and you won't be digging through laundry baskets looking for outfits in the morning.
2. Go back to a regular bedtime. I know I'm not the only parent who gets a bit lax with the bedtime routine during the summer. And if you try to go back to earlier bedtimes the first week of school instead of getting them used to it ahead of time, I daresay you'll run into some resistance.
3. Give them some routine during the day. When we close in on the school year, I make sure my kids do some educational work on their computers, have some dedicated reading time and activity that mimics recess each day.
4. Schedule some extra play dates. They're going to be around a whole bunch of kids soon and it's good for them to get used to interacting with said kids again. This is especially important if you've been traveling and/or really focusing on your own little family unit during the summer.
5. Start lice prevention now. It's never too early to start protecting your kids right? And just like with laying out their clothes, if it's part of their routine, they won't give it a second thought. The makers of Vamousse actually have a couple of really helpful tips in the prevention department...
Expert Lice Prevention Tips
*Use Vamousse Lice Defense Daily Shampoo. Lab studies have shown that Vamousse Daily Defense Shampoo kills lice (even super lice) with daily hair washing. Use Vamousse in place of your child's regular shampoo for 10 to 14 days after suspected exposure to lice. Don't wait for itching symptoms to manifest! It can take 4-6 weeks, during which time an infestation will have grown unchecked.
*Conduct head checks. The best way to catch head lice early is by doing regular head checks. Here's how:
Under a bright light, check for lice and eggs. Watch for movement as lice will quickly travel away from the light.
Part your child's hair to examine the scalp, lice may look like dandruff, but they cannot easily be removed.
Use a lice comb to work through small sections of hair looking for lice or nits (lice eggs). Pay extra attention to the nape of the neck, behind ears, under bangs and the crown of the head.
You can also try their Lice Repellent and Nit Defense. This handy dandy spray repels lice without synthetic pesticides and deters them from laying eggs. Just think how useful this would be to use before you send your kids off to summer camp, sleepovers, sports tournaments...I could go on and on!
How to Treat Your Kids' Lice
Ok, now we've talked about prevention, but what if lice does find your family? Never fear. Vamousse will come to the rescue with their pesticide-free Lice Treatment. You can wipe out the infestation in just one 15-minute treatment! That's right. It's a one and done situation. Forget about waiting around to get back to your everyday routine. You'll all be slaying life again in no time. And their Lice Elimination Powder can take care of those household items of yours that can't be washed.
Now, hopefully, you won't need these words of advice when it comes to treatment, but if lice do find their way to your family, you know you'll be armed and ready to fight them! And you can stay in the know about lice prevention by following Vamousse on Facebook, Twitter, Pinterest, Instagram and YouTube.
For more on why Vamousse is our go-to lice prevention and treatment source, check out our tips for how to prepare for the dreaded lice letter! And that's not all...Who would like to try out Vamousse now?!
Vamousse Giveaway
Enter to win one 4oz sample of Vamousse Lice Defense Daily Shampoo and hair accessories below!
Compensation was provided by Vamousse. The opinions expressed herein are those of the author and are not indicative of the opinions of Vamousse.