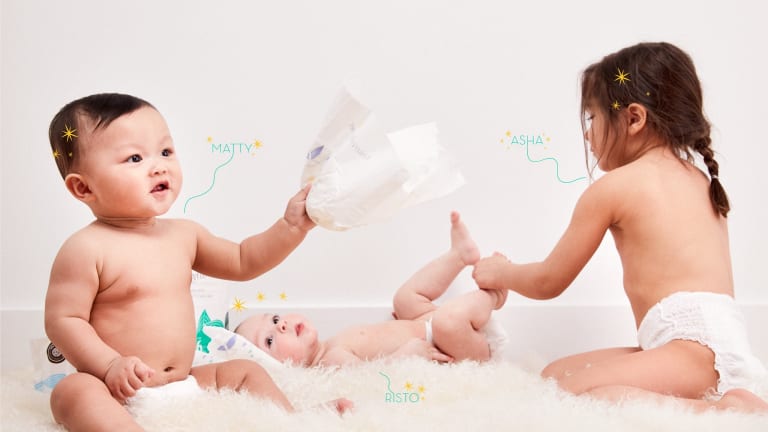 How to pick the safest diapers for your baby
Getting a subscription to healthynest diapers gives parents knowledge they are using the safest diaper in the world.
Many parents spend a lot of time picking out the just right stroller and designing the ultimate nursery. But when it comes time to selecting diapers, most parents are in the dark or rely on a free sample to make a decision. When it comes to what goes next to your baby's skin, it's worth a bit of research. I'm teaming up with healthynest diapers to help you pick the safest diapers for your baby. 
Start with a one-week trial of healthynest diapers here.
Picking the Right Diaper
Once you are knee-deep in diaper changes, you might not have time to see what's on your baby's most tender parts. It's worth a little clicking and reading to make sure you've got a brand that matches your health standards.
What do you want from a diaper? Most parents care about preventing leaks, but we also have bigger concerns like:
How do these diapers impact the environment?
Are these diapers safe for my baby?
Sure, the brands that bombard you with ads prevent leaks, but they aren't going through lengthy testing processes and investing in plant-based design. Healthynest diapers are absorbent (they last for up to 12 hours) and offer a product for parents who care deeply about the environment.
I met the healthynest Founder, Shazi Visram way back in 2008, before she was a mom. She's always been committed to doing things differently and better. Shazi started with better baby food and has built her business on trust. I'm so thrilled that she and her team are expanding how they help moms navigate the entire parenting experience. 
What Goes in to healthynest Diapers
The world doesn't need more cheap diapers. What we need are baby products that help parents in the moment, while also offering families a way to thrive in the future. healthynest diapers are the safest diaper in the world for your baby. They've done a ton of research to develop a product that will keep your baby comfortable and dry in the short term and healthy and safe for a lifetime.
Let's talk about what's inside this diaper: every part of the healthynest diaper that touches your baby is plant based. In fact they are the only diaper in the world that's verified by the Environmental Working Group.
Healthynest diapers are enhanced with cotton, made in Europe. The products are 3rd-party tested to outperform the big brands. I'm encouraging all parents to do a little research before you commit to a diaper brand. 
Delivered with Love and Smile
You won't just get diapers from healthynest, you'll also get a commitment to community. The brand is all about building connections with their families. Every diaper shipment comes with brain-building activity cards tailored to your child's age to help with their development. Even the boxes are cleverly designed to engage parents in play and to help us all rethink how we interact with the world around us. 
As you prep for baby and start building your up and replenishing your diaper supplies, take a moment and look into what's next to your baby's skin. I think you're going to love healthynest and all they stand for. 
HealthyNest Subscription
Ready to commit? Sign up for the healthynestDiapering and Wipe Subscription.  
The healthynest Diapering and Wipe Subscription includes:
4 packs of diapers OR 3 packs of diaper pants 
Your choice of wipes. 
One activity tray
Personalized developmental activity cards
Tailored dashboard with accompanying videos by stage
Diaper sizes start at 1 and run to 5P. The subscription is $130 a month.
Momtrends is proud to partner with healthynest on this post.