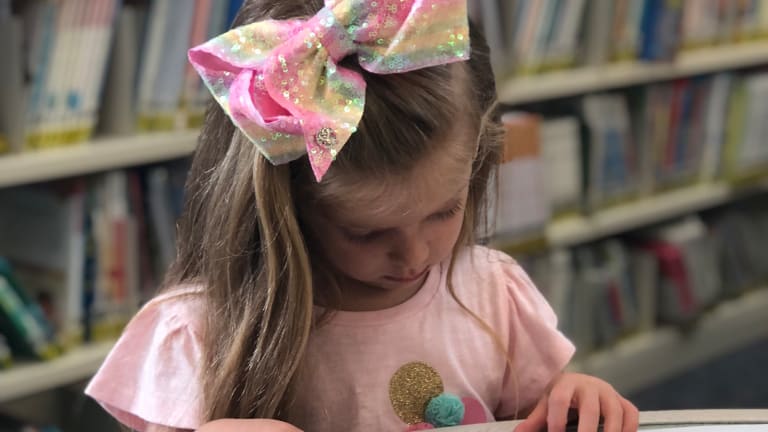 Tips to Pick a "Just Right" Book
Helping your littles choose books
We already said good-bye to September and it is full steam ahead into October. Back to school is a thing of the past and now we're getting down to business. I can tell that parent-teacher conferences are around the corner by the many messages, texts and emails I am getting from my friends. Parents seem to be in full panic mode looking for tips to help their child read. I get it. There's nightly reading logs, book fairs, reading assessments, book buddies and books clubs. A big question I get is,  "How do I get my child to read more?". The first step is to make sure they are reading a "just right" book. One of the main concerns of parents of young children is how to help their child pick a "just right" book. Don't fret mamas, with our tips to pick a "just right" book, your littles will be bookworm status in no time.
Tips to Pick a "Just Right" Book:
1. Be Judgey: Here's where I confuse you and tell you to judge a book by its cover.  You want your child to be excited about reading. Go ahead and let them choose a few books that look like ones they want to read. 
2. Peruse: Go ahead and have them open the book. Look at the pictures. See how many pages it is. Match that with your child's reading stamina. Ask, "Do you like the illustrations? Does it grab your attention?". 
3. 5 Fingers: Choose a page in the book and have your child read it to you. If they make 5 or more mistakes on a page, the book is too challenging. This is a great book for you to read together. You want to always encourage reading so never say "no" to a book just because they can't read it independently. (Another option is to get the audio version of the book so they can read along.)
4. Interest: Start with their interests. Do they love dirt bikes? cooking? ballet? Seek the help of your librarian and pull a bevy of books in your child's area of interest. It is always a great idea to mix both fiction and non-fiction titles. Your child's background knowledge in their area of expertise will help them tremendously when they're reading new material. 
5. Variety: Reading is reading. Don't forget areas of literature such as magazines, poetry, reference books, biographies etc.
6. Ditch it: One of the most powerful tools that I ever taught my students was the power of their opinion. If your child doesn't like the reading material, ditch it! If they are unhappy, or uninterested, they will be disengaged and not invested in their reading.
Head to the nearest library, and have at it mamas! 
This is not a sponsored post.