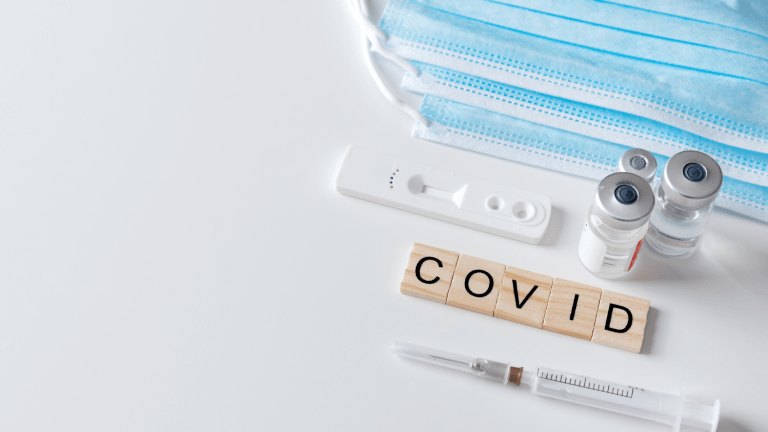 How to Overcome Kids' Vaccination Fears
A doctor provides six useful ways to help children face their fears of needs and vaccines.
Whether it's a flu shot or a regular round of childhood vaccines, kids rarely look forward to a needle jab. With the news that the FDA has authorized the Pfizer's Covid-19 vaccine for children ages 5-11, it's time to come up with a strategy to make the upcoming doctor visit less scary. As families are making appointments to get their younger children vaccinated, we're sharing our best tips to help you learn how to overcome your child's vaccination fears.
My girls are 16 and 13 and we're all fully vaccinated. For our girls, we used science and reason--they want to travel so they were willing to get the jab (plus, they want to protect the grandparents). Here in the US, we are on to the younger set of kids. With kids 12 and under, fears can loom large. Kids may have a lot of questions and worries about getting the vaccine and we've got solutions. 
Related: How to get your kids to actually clean their hands
Six Ways To Help Kids Face the Fear of Needles and Vaccines
Dr. Caroline Mendel and her colleagues at the Child Mind Institute put together this helpful list of tips.

Model calm: Our kids pick up on how we are feeling in any given situation and take cues from us regarding how to feel and act. If you approach the vaccination appointment calmly and with confidence, your kids will be more likely to do the same.
Provide developmentally appropriate information: Provide enough information to help kids understand what they are doing and why, but be careful not to give too many details or overwhelm them with data, media, or family discussions. Use language they can understand, based on their age.
Prepare for your visit: Let your child know what to expect at their visit and following receiving the vaccine. Children don't need to be informed of every possible side effect, but they should know that it is normal if, for example, they feel pain at the injection site or if they feel more tired than usual. You might even want to bring along a cool bandage for after the shot.
Validate and encourage: If your child expresses worry about the vaccine or getting a shot, provide a combination of validation (e.g., "I can understand that you're worried it might hurt") and encouragement (e.g., "And I have seen you be brave for lots of shots before. I know you can do it!").
Provide a reward for being brave: Choose a small privilege, toy, or treat that is motivating for your child and give them specific praise for what they did (e.g., "I was so proud of you for sitting calmly at the doctor's office. You were so brave when you got your shot!"). For my girls this can be a trip to Starbucks or a bit of extra Netflix time.
Seek additional support if needed: If your child has a history of difficulty with going to the doctor's office or receiving shots, they may benefit from an evaluation by a mental health professional. A mental health professional can work with your child in treatment to help them overcome this fear and anxiety if the above strategies are not sufficient. And maybe bring along that favorite stuffed animal to make the shot less scary.
And finally my best tip is to make them a part of the process. I take my kids with me when I get MY shots, so they know I too am part of the solution by getting a vaccine.
More About The Child Mind Institute
The Child Mind Institute is dedicated to transforming the lives of children and families struggling with mental health and learning disorders by giving them the help they need. Millions of children – as many as 1 in 5 – struggle with mental health or learning challenges. They are the leading independent nonprofit in children's mental health by providing gold-standard evidence-based care, delivering educational resources to millions of families each year, training educators in underserved communities, and developing tomorrow's breakthrough treatments.
MORE PARENTING HELP FROM MOMTRENDS?
PIN IT!
Use Pinterest to save your favorite articles. Be sure to follow our Parenting board here.
Momtrends was not compensated for this post.