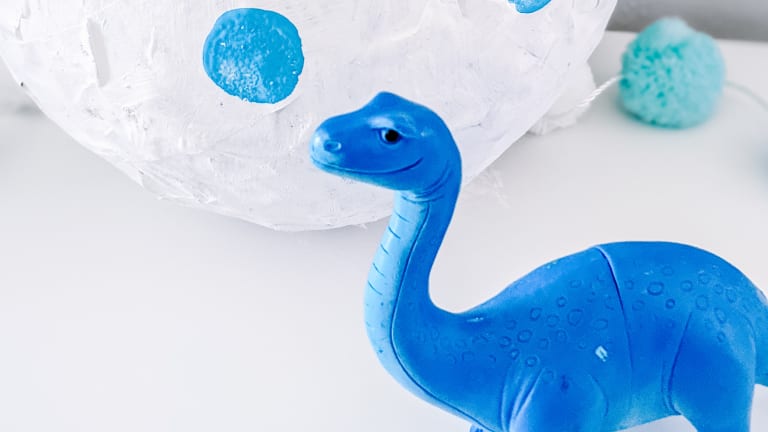 How to Make Your Own Dinosaur Egg
Get crafty with our awesome step-by-step instructions to make a fun paper mache dinosaur egg.
Here at Momtrends we are crazy about dinosaurs. Over the years, we've noticed a trend, our most popular birthday party theme of ALL TIME is the dino birthday bash. To help you throw and amazing party, we've recreated one of our top craft, the dinosaur egg. Here's how to make your own dinosaur egg for an awesome craft at your next party.
Related: Throw a dinosaur birthday party
Getting Inspired
To help on this project, we enlisted master crafter Karimah Henry from the site craftingafunlife.com.
If you haven't checked out her site before do it ASAP. Karimah came up with a list of supplies and step-by-step instructions for creating this cool craft.
 Paper Mache Dinosaur Egg Supplies
Balloon -12in (one per egg)
Bowls
Newspaper (shredded into long strips)
Flour
Water
Shallow dish
White paint
Foam brush
White spray paint (optional)
Colored paint (adding decoration is optional)
Paper Mache Dinosaur Egg Directions
 Start by mixing 1 part flour and 2 parts water in a shallow dish to create the paste.
Next, blow your balloon up to the desired size.
Place your balloon in a bowl that is large enough to keep it stable but small enough that it doesn't get stuck inside.
Dip each strip into the paste and use your fingers to remove the extra liquid. Now place it on the balloon.
Layer the balloon with the strips until it's completely covered.
Let it dry overnight.
After the egg is dried completely, cut off the balloon tails.
Make a slit in the egg then place the dinosaur inside.
Apply strips with the paste to cover the hole then allow it to dry.
Finally, paint the eggs white. You can also use different color paint to add circles to the white egg.
Once you've got your eggs done, display them around the party as prehistoric finds. And remember, this craft doesn't have to be created for a party, it's also a great rainy day project.
MORE BIRTHDAY PARTIES FROM MOMTRENDS
PIN IT!
Be sure to follow our Kids Birthday Party board on Pinterest for more party inspiration.
Momtrends was not paid for this post.