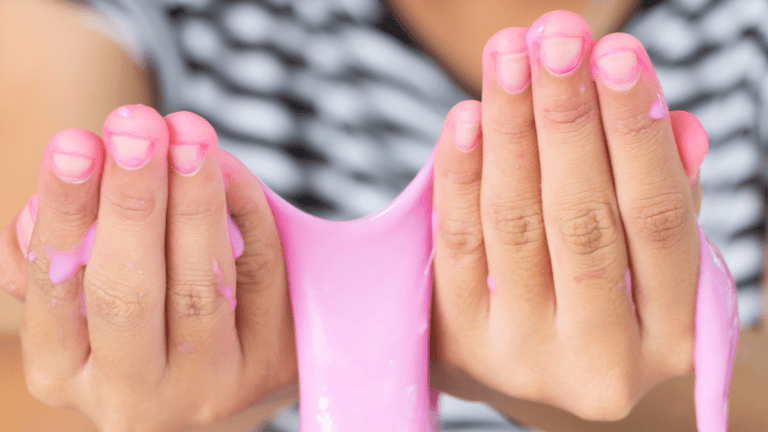 Fluffy slime (or any slime) is not only fun to make and play with, it's also for a great way to pique a child's interest in science. After all, the ingredients work together to actively create a textural reaction! 
Related: Camp mom summer ideas
All you need to do is mix up three key ingredients with the little food-coloring dye of your choice, and you'll be splaying with fluffy slime in no time. 
FYI: This recipe is a little stickier than other slime concoctions, but it can easily come off your kids' skin by sliding or rolling their hands together. It will stick to fabric, but can also be removed by sliding or rolling it. To be safe, have the kids wear old t-shirts and if you have carpet, put an old towel or sheet down.
Ingredients for Fluffy Slime
1 cup of glue
3 cups of shaving cream
5+ tbsp contact solution*

Save Money at a Ski Swap
Are the slopes in your future? If you want o save money on ski gear, consider a ski swap.  Connecticut  Ski Sundown SKI SWAP 2021. The Sundown Ski Patrol Ski Swap is one of New England's largest and longest-running swaps. Held in the Ski Sundown base lodge, you'll find a large ...read more
The Ten Best Wooden Play Kitchens For Kids
Cooking is a timeless fascination for children. This type of play goes beyond gender and teaches kids loads of life skills along the way. An investment in a play kitchen is money well spent, as it can provide hours of entertainment. We've rounded up the ten best wooden play ...read more
New Victory Announces a New Season of Shows
We know you're busy planning picnics and summer outings, but we wanted to let you know that The New Victory just announced their new season and it looks fantastic. We thought you'd like a sneak peek of what's in store! Each year the New Vic theater brings culture to tourists and ...read more
A few drops of food coloring
*Note: The contact solution must contain boric acid as an active ingredient. Most brands contain boric acid, but definitely double-check the label. 
Instructions for making Fluffy Slime
1. Empty your glue into a large bowl and add the food coloring little by little, mixing until you get your desired color.
2. Add the shaving cream and mix well. The mixture will start to get very thick and fluffy.
3. Now you are ready to add in your "slime activator" – the contact solution. Add it in little by little, and keep stirring until you start getting the slime consistency. Add smaller and smaller amounts towards the end.
This is not a sponsored post. Some copy/tips via LittlePassport.com. 
MORE KID-CENTRIC FUN FROM MOMTRENDS
PIN IT!
Need more ideas on what to do with the kids? Be sure to follow our Activities to Do with the Kids board on Pinterest here.