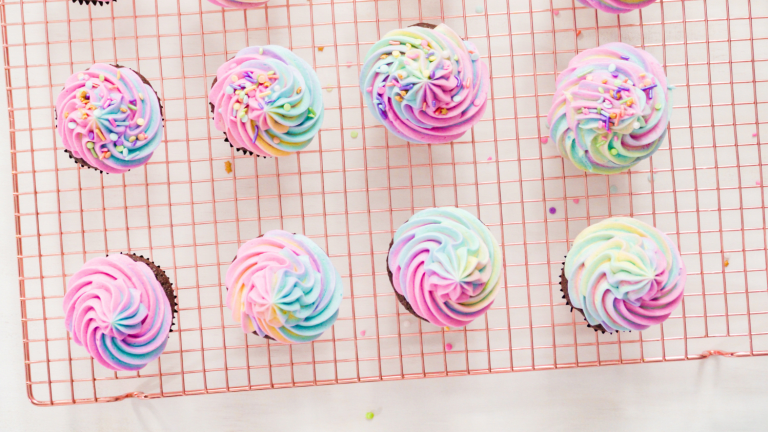 How to Make Healthier and Super Cute Rainbow Cupcakes
Ideas to clean up this fun baked treat with lower sugar or gluten-free while still remaining FUN.
My girls are really into baking. And I love when they work together to make something sweet...even if they do mess up the kitchen. Together, we've been finding ways to improve upon our favorite recipes. I want to share how we make healthier and super cute rainbow cupcakes.
Related: Crockpot stuffed apple French toast recipe
A Healthier Rainbow Cupcake recipe
I've been encouraging them to test out new ways to cut down on the sugar and dyes in many recipes.  First, let's talk about the cake portion. Since a cupcake is all about the toppings, we speed up the process by using mixes when we can.
When it comes to cupcake mixes, we like two brands. First, Foodstirs mix is awesome because it offers 25% less sugar. Another option is the gluten-free Funfetti Cake Mix from King Arthur flour. This soft-baked cake mix comes with naturally colored sprinkles that go into the cake.
Better Food Coloring
When it comes to food coloring, I'm a fan of the Chefmaster Natural Liqua-Gel Food Coloring Kit. This kit uses plant-based ingredients, like kale and beets to create naturally vibrant Colors. This option is vegan-friendly, gluten-free, egg-free and peanut-free and allows parents to skip the sketchy dyes that are put in many food coloring.
Get the Chefmaster Natural Gel Food Coloring - 8 Count Pack on Amazon here.
Better Sprinkles
My girls LOVE the decorating part, but sprinkles can have some NASTY stuff in them. The best options I've found are from Sprinkles by Supernatural. They skip the artificial dyes and gluten. The colors come from veggies and spices.
Get the Supernatural Sprinkles on Amazon here.
Ingredients:
12 baked cupcakes, any flavor 
1/2 cup (1 stick) butter, softened
4 ounces cream cheese, softened
2 cups powdered sugar
1/4 teaspoon almond extract, if desired
Natural food coloring
Sprinkles
Equipment
4 small plastic bags
Electric mixer
Knife
Mixing bowls (medium and small)
Measuring Cups
Kitchen shears
Spatula
Spreader
Cute Rainbow Cupcakes Directions
Prepare cupcakes per package instructions and cool completely. 
Combine butter and cream cheese in mixing bowl using an electric mixer until creamy. Gradually add powdered sugar a half cup at a time and almond extract if desired; beat until smooth. Be sure to scrape sides of bowl often with spatula
Divide frosting into 4 small bowls. Add food coloring a drop at a time until desired color is achieved. Spread over cooled cupcakes using spreader.
Add sprinkles.
Helping Tip for Frosting Cupcakes:

To easily decorate cupcakes, spoon frosting into small plastic bags. Cut off the corner with kitchen shears and squeeze out onto cupcakes starting at outer edge and spiraling toward center.
To create a swirled frosting effect, add two colors to the plastic bag.
WANT MORE RECIPES FROM MOMTRENDS?
PIN IT!
Use Pinterest to save your favorite recipes ideas. Be sure to follow our Recipes to Inspire Board here.
This is not a sponsored post.