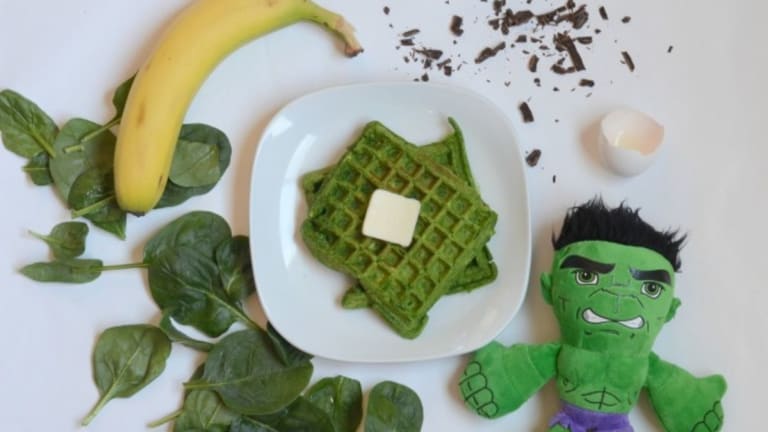 How to Make Green Hulk Waffles
We came up with the idea of adding spinach to our favorite waffle recipe and calling them Hulk Waffles.
I wouldn't say my kids are picky eaters. They will usually at least taste anything we put in front of them, even if they don't end up liking it. Some vegetables (green ones in particular) have been hard to sell lately. My husband and I aren't above a little trickery to get those nutritional green vegetables into our kiddos. Enter Hulk...I'm going to teach you how to make green Hulk waffles.
Related: Mini banana waffle pies
We came up with the idea of adding spinach to our favorite waffle recipe and calling them Hulk Waffles. My little guy is especially obsessed with super heroes, and "Hulk smash" is his favorite.
These greens aren't really hidden since they make the waffles bright green, but my kids don't mind, and they love making them. I'm pretty sure they are convinced eating them will make them strong and invincible, like the Hulk.
We don't usually have time on school mornings to make a big fancy breakfast so this is a weekend treat. That's right I said treat. My kids actually cheer (like jump up and down cheer!) when we tell them we are making Hulk Waffles. We like to make up a big batch of them on the weekend and then freeze the rest for school days.
Green Hulk Waffles Ingredients
2 cups all purpose flour
1 teaspoon baking powder
1/2 teaspoon baking soda
1 teaspoon salt
3 tablespoons sugar
1 teaspoon chocolate extract
3 eggs, slightly beaten
2 oz butter, melted
2 cups milk
11 oz fresh baby spinach leaves
Green Hulk Waffles Directions
In a large bowl, mix together your dry ingredients - flour, baking powder, baking soda, salt and sugar.
Add in your melted butter, eggs, and chocolate extract.
In a blender, pour in your milk and add in about 1/2 of the spinach leaves. Puree until mixed. Add the rest of your spinach leaves to the blender and puree until completely mixed.
Pour your spinach mixture into your bowl with your other ingredients and stir together until mixed and there aren't lumps.
Cook in a waffle iron with non stick spray for a few minutes.
Start by adding 2 cups of milk to your blender. Let the little ones help add in the spinach.
We add our spinach about 1/2 at a time and blend well using the puree setting.
Our little guy likes being in charge of the buttons on the blender. It makes this toddler feel important and like he's being a big helper. And he is!
In a large bowl mix together the dry ingredients: 2 cups all purpose flour, 1 teaspoon baking powder, 1/2 teaspoon baking soda, 1 teaspoon salt, 3 tablespoons of sugar.
Add in your wet ingredients: 1 teaspoon Nielsen-Massey pure chocolate extract, 3 eggs (slightly beaten), 2 oz melted butter, and your spinach mixture.
Let the little ones stir with a spatula until combined and there are mostly no lumps of flour.
Ladle your batter into your greased waffle iron and cook for a few minutes until slightly browned.
Our waffle iron is a small one that makes two squares. It was from before we got married and it's served us well. (Almost 12 years and 2 kids later and it's still going strong!) This recipe makes 16 squares by the way.
Hulk says "eat these waffles to be big and strong and healthy!" Yummy!
Sometimes my kids can't wait and they want their Hulk Waffles straight off the plate. They eat them like a cookie with no syrup or extra toppings. 
I like to stick my extra waffles in a freezer bag and pop them in the freezer for school days. Just stick them in the toaster for a minute or two until thawed and warm. (Better than the store bought kind!)
Note: You can premix your dry ingredients and store them in an airtight container. It's better thank Bisquick!
We like to top our Hulk Waffles with whipped cream, bananas and chocolate. And there you have it. Do you have any sneaky ways to add in hidden vegetables. Let us know in the comments below!
MORE BREAKFAST IDEAS FROM MOMTRENDS
PIN IT!
Use Pinterest to save your favorite recipes. Be sure to follow our Kid Food Pinterest board here.
This is not a sponsored post. We did receive samples. This post may contain affiliate links.