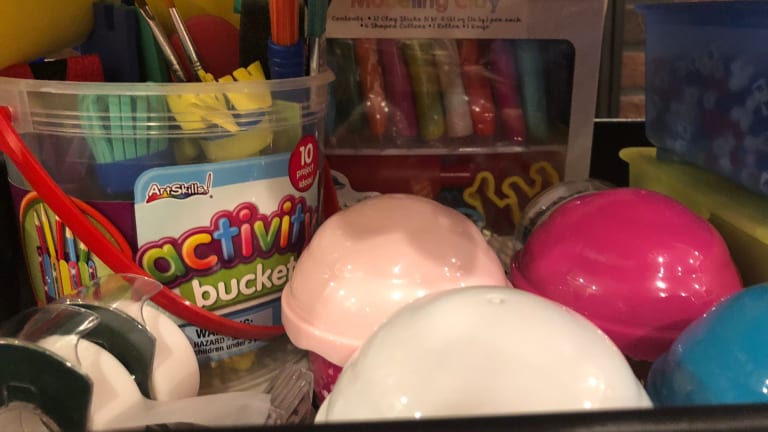 How to Make an Art Cart
A Kid-Friendly Crafting Station for Small Spaces
My newly minted six-year-old big boy is a crafting fiend. He loves to make, to create, to build, and decorate. He'd actually been art deprived since school let out in late June. His Kindergarten teacher was a bundle of artistic inspiration and every day Grant would come home from school raving about his latest masterpiece. 
When summer vacation started, the crafting creations came to a halt. He would beg and plead to get him "resources" (cardboard scraps, stickers, beads, feathers, googly eyes, and other exciting items). But with a small house and tiny playroom, I didn't want to cause clutter and mess.
So with his birthday approached, we had the idea to create an art cart, a small portable station to hold supplies and essentials.
We found this handy cart at Ikea and stocked it with all kinds of fun items from styrofoam balls to paint brushes to TP and paper towel rolls to safety scissors of every shape and curve. We got everything from the Dollar Section at Target, Michael's, and Ikea. Easy breezy; plus, we added items we collected at home!
What to Stock in Your Art Cart
· White Paper
· Construction Paper
· Card Stock
· Envelopes
· Index Cards
· Post-Its
· Colored Labels
· Cardboard Scraps
· Paperclips
· Clothes pins
· Cotton balls
· Q-Tips
· Popsicle Sticks
· Straws
· Felt
· Brown Paper Bags
· Scotch Tape
· Washi Tape
· Dyed macaroni
· Assorted Pom-Poms
· Assorted Beads
· Styrofoam
· Scissors
· String
· Lanyard
· Yarn
· Crayons, Markers, Colored Pencils
· Paint, Brushes, and rollers
· Modeling Clay Kit
· Cones
· Toilet Paper and Paper Towel Rolls
· Ribbons and Bows
Want to see a few of the fun projects we've made since introducing the art cart?
This is not a sponsored post. It may contain affiliate links. All opinions are our own.