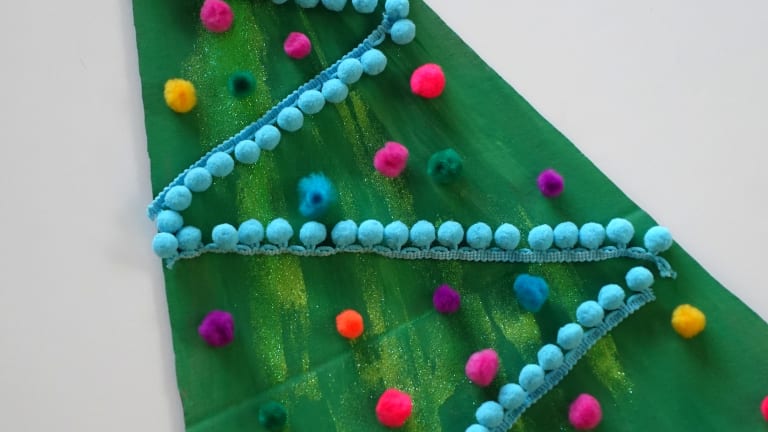 How to Make a Cardboard Christmas Tree
This fun craft will make the most of your delivery boxes and keep the kids busy as they wait for Santa.
With Christmas right around the corner, a lot of moms are struggling with what to do with the kiddos while we count down to Christmas. This fun cardboard Christmas tree craft will make the most of your delivery boxes and keep the kids busy as they wait for Santa. I know you've got Amazon boxes at the house, and that's all you need to get started.
Related: Celebrate with kids Christmas traditions around the world
Cardboard Christmas Tree Craft
This craft makes use of deconstructed cardboard boxes, making it eco-friendly (ok, leave off the glitter if you must) and inexpensive. While we used pom poms, you can "decorate" your tree with whatever you have in your crafting supplies.
For all the crafts we share, we invite you to make them your own. We made our tree green, you can feel free to be embrace all your favorite colors. I think a pink or white tree would be fabulous.
To help on this project, we enlisted master crafter Karimah Henry from the site craftingafunlife.com. I love that this project starts with heading outdoors. It's really a two-part operation. Part one involves hunting for leaves, and part two is the crafting. 
Cardboard Christmas Tree Supplies
We used a lot of supplies we already had on hand. It's a craft that doesn't require shopping.
Recycled cardboard
Paint (different shades of green)
Pom poms (variety of colors)
Glitter (optional)
Sequins (optional)
Pom pom trim
Stick-on bows (any color)
Foam brush
Scissors or craft knife
Tacky glue or hot glue gun with glue sticks
Cardboard Christmas Tree Directions 
Start by cutting your recycled cardboard into a triangle shaped tree. Create a stump with the remaining cardboard.
Next, use a brush to paint your cardboard tree. Use different shades of green. Let it dry.
Now it's time to decorate your tree! Glue poms poms, glitter, sequins or pom pom trim to your tree. Add the stick-on bow at the top to represent the star.
Finally, glue the stump to the bottom of the cardboard Christmas tree to finish this project.
This festive tree will look great on your front door or in the kitchen. And you can create this craft every time a new delivery arrives!
MORE HOLIDAYS FROM MOMTRENDS
PIN IT!
Use Pinterest to save your favorite gift ideas. Be sure to follow our Holiday Recipes and Crafts board here.
Momtrends was not paid for this post.