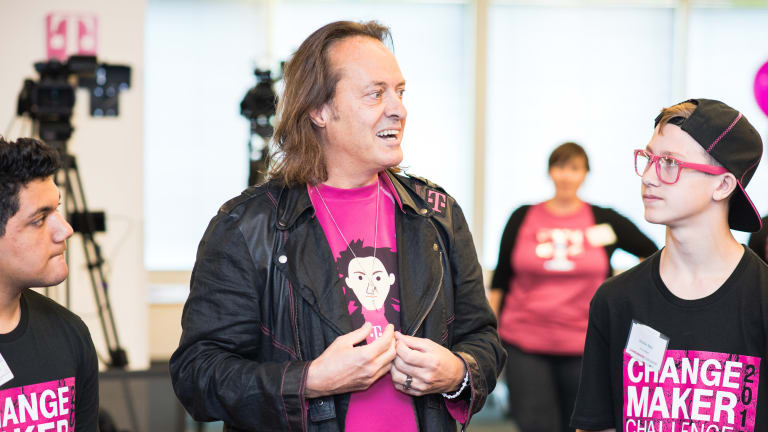 How to Inspire Your Child to be a ChangeMaker
In this social media driven day and age it can be easy for kids to fall into a self involved trap. Even if your kids are too little to be focused on taking a ridiculous amount of selfies, it's coming. Trust me, it's coming. My daughter is in first grade and I regularly find a slew of selfies that she's loaded up my phone with. Bwah! Now I'm no opponent of progress. My job wouldn't exist without social media and I know how much good has come from it. That being said, I worry about my children worrying too much about the curated image they present to the world and not enough on what's inside. They're inherently kind little people, so I think as long as their father and I expose them to people doing good, they'll find their own path to leaving this world a better place. I  have no doubt that a ChangeMaker or two is in the works at my house! They just need a little help along the way...

T-Mobile ChangeMaker Challenge
And speaking of ChangeMakers, have you heard about the T-Mobile ChangeMaker Challenge? Our favorite Un-Carrier is investing in the future by inspiring young people to turn their visions for making a difference in this world into reality. Thanks to visionary ideas, 30 teams got all-expenses paid trips to the Changemaker Lab at the T-Mobile Headquarters in Seattle for a two-day workshop where they received mentorship, skill development, and support to help them launch their concepts.
Their ideas were so impressive, in fact, that T-Mobile CEO, John Legere, decided to declare ALL of the top 6 teams who pitched their ideas to him CEO Pick winners! AND he announced that he would be making a personal donation of $30,000 as well. So, each team will receive an another $5,000 in addition to the $5,000 that they've already received from the T-Mobile Foundation! They'll also be taking home an all-expenses-paid trip to T-Mobile's Bellevue Headquarters where they will really be able to enhance their projects with in-depth mentoring from the T-Mobile legal, marketing and finance teams. And said ChangeMakers will be appearing with the CEO on his Slow Cooker Sunday Facebook show. With over 4 million viewers, that's a huge opportunity to amplify their message!
And what positive messages they are. I was particularly inspired by team Echo Effect. They came up with an app that challenges young people to turn their selfies into good deeds. I'm talking about things like sending a letter to a veteran, unloading groceries for an elderly person or donating a dollar to a charitable cause.  How cool is that?! They've turned "Selfies for Selflessness" into a game. Each good deed is awarded a point and users have the opportunity to earn more points for the additional acts of kindness their selfies inspire, essentially creating an "echo" of positive action all over the world. I mean, if there is anything my kiddos relate to, it's a game. The fact that this team created a way to make something that, at its core is self-involved, into the opposite of that is incredible! I'll certainly be telling my two little selfie takers all about it!

So, if you too want to raise a ChangeMaker, I urge you to share some of the ChangeMaker projects with them. I daresay they'll walk away with loads of altruistic inspiration! To hear more about these exceptional young people, please join us for the #TMOChangeMaker Twitter party on Thursday, August 30th, at 9pm ET! Make sure you RSVP below to be eligible to win the incredible prizes!
And for more on T-Mobile, check out our post on FamilyMode, the ultimate solution for managing your family's digital habits!
#TMOChangeMaker Twitter Party
Hashtag: #TMOChangeMaker
Host: Hosted by @momtrends and @theshoppingmama
Date and Time: Thursday, August 30th,  at 6 PM PT/ 9 PM ET
Prizes: T-Mobile will be giving away 4 Apple Airpods ($159.99 each)
Please see the full rules here.
This post is sponsored by T-Mobile.