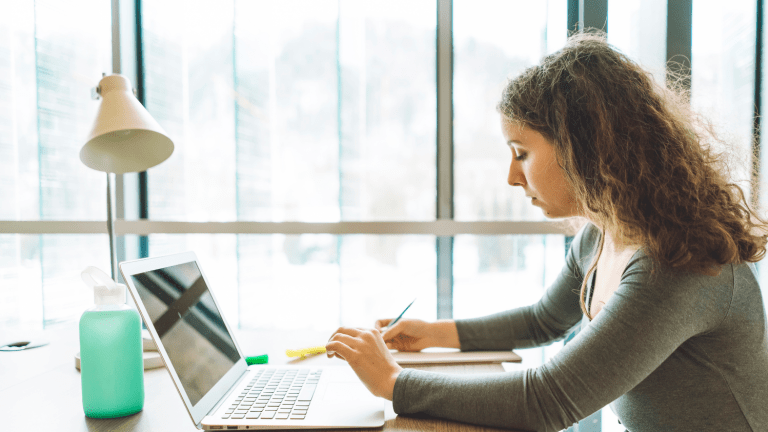 How to Get Started with Writing College Application Essays
Write the World is a great way to jumpstart the college application process and teach students to embrace the personal statement.
The global pandemic upended so much of what we consider normal. And this is especially impacting high school students. Not only is school distant and weird, our kids are also getting robbed when it comes to prepping for college. Thankfully, there is support for families as they start thinking about applying to colleges. Write the World is a great way to jumpstart the process and get students motivated to write powerful personal statements. 
Use code Momtrends10 for any Write the World virtual college essay writing workshop (the 2-hour or week-long session included).
What is a Personal Statement
Part of the college application process is making each student's voice heard. With thousands of applications flooding into colleges, many admissions offices rely on an essay to help understand and sort prospective students. The essay is also known as a "personal statement." In a nutshell, this writing sample is designed to show a college admissions committee who the student is and why he/she/they deserve to be admitted to their school.
Now more than ever, these statements matter. Many schools are moving towards test-optional admissions. Candidates will rely on grades, recommendations, community service and activities to stand out. Savvy students will also write an essay that draws the reader in and tells a story.
How to Get Started with Writing College Application Essays
This weekend my sophomore got a jump on the process. So far, we purchased a large book with thousands of colleges in it (The Fiske Guide to Colleges) and she has started a SAT prep class. As she starts getting ready to put together her applications, she took the two-hour College Essay course from Write the World. She's just at the beginning of the process and her timing was perfect. This workshop gave her a taste of the application process.
During her workshop she was able to 
Explore Common Application questions
Gain inspiration by reviewing successful college essay samples
Explore topics to write about
Apply her unique life experience to specific essay questions
The workshops are for students in 9th to 11th grades. Virtual spring and summer sessions are scheduled now through July 2021.
In addition to the in-class learning, my daughter will also receive a multi-page Action Plan that includes personalized feedback from an expert Advisor, discounts, and FREE resources for Supplemental Admissions Support ($500+ value).
View upcoming dates and sign up for the course here writetheworldworkshops.com/college-essay. The session is $149.
Why Take a Course on Essays?
Now is the time for sophomores and juniors to jumpstart the college application process and become acclimated with the college admissions. This 2-hour workshop has an ivy-league educated Expert Advisor guide a small group of students through ins and outs of essay writing.
Here are the goals for each workshop:
Unlock your student's key ingredient,
Learn about the "Essay Success Formula"
Zero in on the crucial components admissions officers look for. 
Receive a customized, multi-page Action Plan, as well as financial and college readiness tools to tackle next steps.
Sure, you and your child could whip something up at the 11th hour together, but in keeping with trying to raise independent humans, this course leads them to the knowledge that they have stories inside them.
My daughter learned that reflection is the key ingredient to a great personal statement. And reflection can only happen with space and time. 
About Write the World
Write the World developed the College Essay Program while at Harvard University. It is run by an expert team dedicated to helping students navigate the essay writing process. The ivy-league educated instructors have 20+ years of combined experience guiding teenagers to write and write well. 
Check out Write the World's Video featuring Admissions Experts sharing why the essay is the key to getting accepted here: https://youtu.be/Ai1RDsfH2rM
Who Should Take the Course
These courses are well suited to sophomores and juniors. They are in the perfect spot to start thinking about their passions and their "story." Taking the Write the World course got my daughter thinking about what makes her special and how she can contribute to a community.
As a bonus, my daughter was thrilled with the participants. It was also important to have a community of like-minded and motivated peers. She loved hearing stories from the other students around the world about what made them special. At times it can be embarrassing to be the most motivated student in the room, but finding courses like this made her even more excited about the college process and finding "her people" at the right school.
Momtrends readers save 10% with code Momtrends10. View upcoming dates and sign up for the course here.
More College Application Help from Write the World
Got a kiddo that's further along in the process? Write the World has help for them too. Check out these sessions:
Complete Your College Essay For 11-12th Graders: Go from college essay ideas to execution in this week-long virtual course. Students walk away with a fully drafted, stand-out Personal Statement in hand, as well as a plethora of writing resources for college and beyond.
College Essay Review For 11-12th Graders: Submit your draft to our team of Ivy-League educated and trained instructors and receive a personalized, multi-page report with detailed feedback within 48 hours.
Good luck with the journey and know I'm right here with you as we figure this out together. I'm delighted to share resources like Write the World, to make the process less stressful for all of us. 
This is a sponsored post.