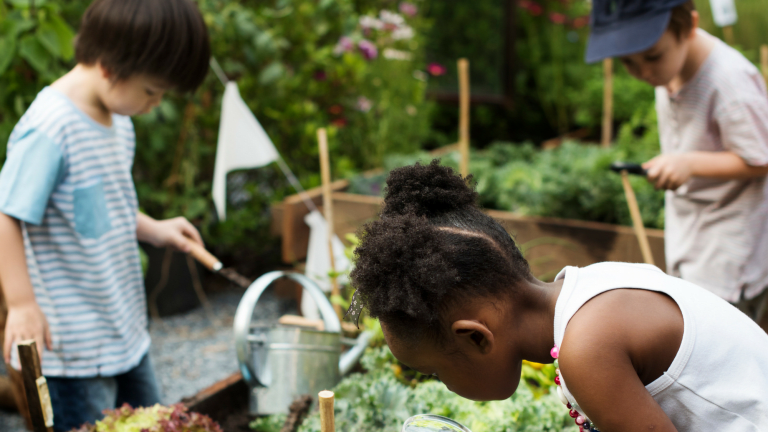 How to Get Kids Gardening
Have them dig, learn and grow!
Some of my happiest memories growing up include digging in the garden. I remember my mom working hard to prepare the soil, plant the seeds strategically and tend to it lovingly. We started an organic no-till garden nearly 10 years ago and the bounty we reap every year is rewarding on so many levels.
Getting the kids in on the action is a great way to embark on a gardening journey. There are several ways to garden depending on your space (and time) availability, as well as the climate you live in. To get you started you can check out Mother Earth Living for great gardening resources. For tips on what plants best grow in your area check the USDA Plant Hardiness Zone Map. We pick our local farmers' brains every season to get the best tips on what to grow, and what nutrients to add to the soil to safely and organically nurture healthy thriving plants. 
All you need to get started is determination, a little know-how, and your team of kiddos to dig in!
Gardening is so good for children. It helps them understand the food cycle and how things grow. It teaches them about general plant basics (parts of the plant, what plants need to grow best, and how to tend to plants) as well as more specific details like what plants grow best near one another, what plants attract which pests and it connects them to the foods they eat on a deep level. The food we grow in our garden is fresh, chock full of rich nutrients and is literally the "fruit" of our labor. The children have learned if they take care of the garden, it will take care of us!

We recently read Bloomers Island-The Great Garden Party to kick off our planting season. Another fave in the series is Rosey Posey and the Perfectly Pink Radish. Reading a related text always get the children excited about starting a new project. We love the Veggie Pops from Bloomers Island as they are a great first step into gardening. The "pops" are GMO-free (a must!) are easy to grow (the stick makes them perfect for little hands) and give the kiddos such a feeling of accomplishment. The Bloomers Island website has a bevy of tips to get you started, and continued on growing a successful garden.
And for those of you with less space we're giving the Bushel and Berry a whirl. Bushel and Berry is a healthy and kid-friendly edible berry collection that anyone can grow right on their patio. Bushel and Berry is a breed of compact blueberry, raspberry and blackberry shrubs that don't require big garden spaces or staking, and they produce a crop of healthy, sweet berries in the summer - that thrive in containers! Carefree and easy enough to grow on a patio, apartment balcony, or small outdoor garden space, these dwarf shrubs are prolific fruit bearers and perfect for those wanting to add antioxidant rich berries to their diets.
Have fun, get dirty and share what you're growing with us!
This is not a sponsored post. This post may contain affiliate links.