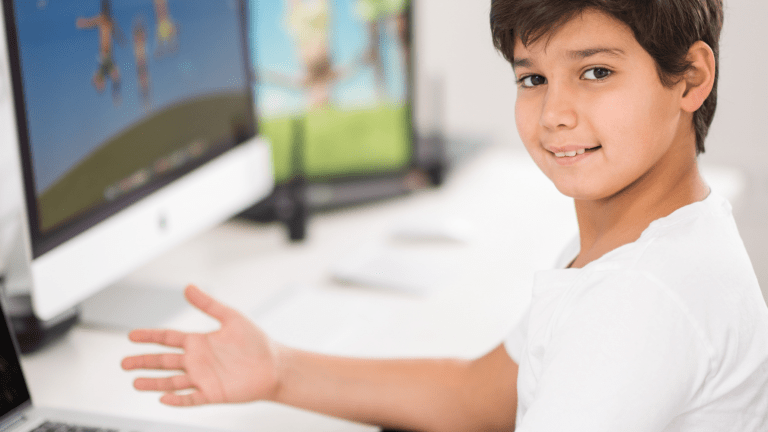 How to Foster an Early Interest in Computer Science
My seven year old is obsessed with numbers and computers and science and robotics and engineering. I just may have myself a budding coder, and I'm pretty excited about his unwavering enthusiasm. (I could use my own IT guy and HTML hacker!) Seriously though,  according to the Bureau of Labor Statistics, there will be approximately 3.5 million U.S. computing-related job openings expected by 2026, so it's a great hobby, passion, and activity to encourage. The fact is: only 3% of the population can read and write code (you can count me out of that minority). 
To help bridge this gap, Jonathan Desorosiers of Bluehost recently spoke at two elementary schools and hosted a WordPress kids camp in Boston to start introducing children to computer science concepts. He was surprised to find that most elementary age students didn't understand how computers worked, and thought computers were just screens and plastic.
Fortunately, there are a few ways parents can introduce computer science to kids this summer. Here's how you can introduce these skills:
1. Challenge kids ideals of computers. Start off the conversation by asking, "What is a computer?". Then have a couple pictures of household items that include different types of computers or technology like a self-flushing toilet, sprinklers, or even pets. Ask your kids to identify which of the photos are computers. When they look baffled, explain that all of these examples are computers. For example, the toilet has sensors that detects motion and communicated for the device to flush and sprinklers are set on a timer to go off on certain days at certain times. Even pets can be considered a computer if they have microchips in their skin that store home addresses and contact information. By using examples they understand, parents can make computers and technology seem more interesting and something they can engage with daily. This exercise challenges the perception that computers are just rectangular boxes with screens. With today's technology and the emerging Internet of Things (IoT), anything can be a computer!

2. Hello Ruby print and play activities. Linda Liukas is a children's book author that uses stories and activities away from computers to help kids understand how they work. No screens required! She challenges them to see computers for their creative potential, not just as a boring pieces of metal and plastic. All of her activities are free to download, and include topics for all age ranges. Perfect for a rainy day or quiet afternoon.
3. Hour of Code from Code.org. The Hour of Code started as a one-hour introduction to computer science, designed to demystify "code", to show that anybody can learn the basics, and to broaden participation in the field of computer science. It has since become a worldwide effort to celebrate computer science, starting with 1-hour coding activities but expanding to all sorts of community efforts. Activities are free and range from creating dance parties to puppy adventures. Parents can make Hour of Code a weekly activity with their children, and even host an event with friends. Most activities only require an operating computer and the internet. 
Want to keep the kids learning this summer? Check out theses 3 STEM skill building toys and encourage budding students with these stay-smart tips. 
This is not a sponsored post.