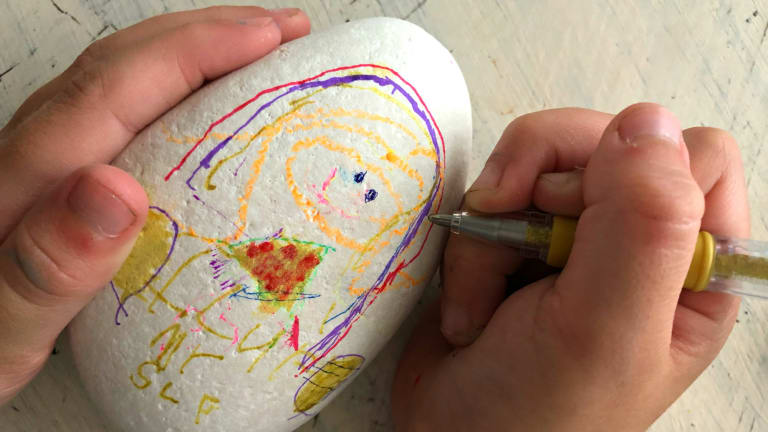 How to Encourage Creativity in Kids
Foster your children's creativity by giving them the tools to create!
My children are artistic little souls, so I'm often focusing on how to encourage creativity in kids. Almost as soon as my son could grasp a crayon he was drawing and my daughter has yet to meet a craft she didn't love. That being said, sometimes it's hard to find an activity that BOTH my creatives love. My little dude prefers to work on his comics while my baby girl wants a table full of supplies to craft with. Well, thanks to Pentel POP products, I think I found the perfect creative activity for both of them! Hello rock art! It's the best of both worlds...My son can draw to his heart's content, yet it's crafty enough for my daughter!
How to Encourage Creativity in Kids with Rock Art
I'm sure I'm not the only one who remembers their parents talking about their "pet rocks." Well, when I was trying to figure out an activity that would keep my kids busy, I remembered my mom's rock art obsession and thought the Pentel POP Solar and Sparkle Pens would be perfect to create some seriously fun rock art! Thanks to vibrant neon colors in smooth gel ink and sparkling iridescent magical ink, you can't go wrong. Plus, the ink dries super fast which is perfect for my forever smudged lefty. Haha!
We actually used rocks from my parent's house, making it a nice full circle moment for this mama. You can do the same. Just head on out to your yard. All you need is a rock that has a fairly flat surface, some Pentel POP pens and you're ready to create! And if you snag those pens, you can bet they'll be used for more than rock art. The latex-free grip makes for comfortable drawing AND writing. I see writing practice that my first grader will actually be excited about in our future!
Imagination is Tops
What I love about rock art is, just like paper, it's a blank slate. Kids are free to tap into their own imaginations. When thinking about how to encourage creativity in kids, giving them the freedom to imagine is of utmost importance! And with the right materials, I'm sure you'll find your creative kid having no trouble creating rock art of their dreams! My son, for instance, went to town drawing his favorite creature, a mega shark, and my daughter drew herself. Bwah! You gotta love her! The important thing is they enjoyed some quiet (fight free, gasp) creating time together. And that's just what I need at back to school time. They're little brains are being taxed again, so they need some down time and so do I! Mama's BUSY y'all! Thank you Pentel POP!
Now that you have some inspiration for how to encourage creativity in kids, for even more ideas for creative kids, check out the macaroni crafts we rounded up!
This post is sponsored by The Brand Connection/Pentel, all opinions expressed are my own.