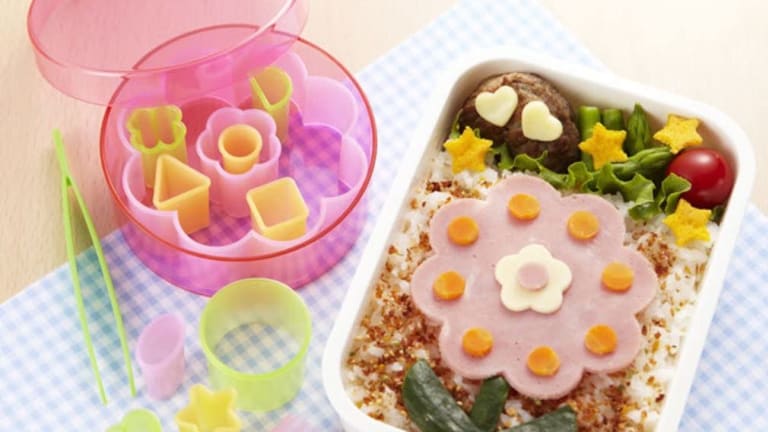 How to Create the Cutest Bento Lunches Ever
Mom-friendly tips for creating a creative Japanese-inspired bento lunch for your family.
I am continually amazed by the tremendous women I meet as an Air Force spouse. Moving frequently can be difficult, but the amazing friends we make along the way are, without a doubt, the best part. I'm excited to introduce you to another super cool mom who is juggling 3 kids, a long deployment, community support, volunteer hours AND she still manages to create the cutest bento lunches ever. I asked her how in the world she does it and to share some of her tips. Mamas, meet Sonia!
Related: Easy breakfast recipe scrambled egg cups
How long do the bentos usually take? How do you budget the extra time to make them?
Sonia: Sometimes bentos take 10 minutes, some days they can take up to 45 minutes! If I have a good plan in my mind about what to make, I can usually fly right through it. That is... If I have managed to feed the kids and taken care of their needs before I start the bento. Sometimes I wake earlier than the kids and can make the bento before starting their routines. A lot of times, though, I'm finishing up last minute because I haven't budgeted my time well.
What's your favorite bento box you've created?
Sonia: You'll have to help me choose. (Some favorites pictured below.) I remember making each and every one.
Kids can kind of be, how do I put this nicely, oblivious of our efforts. Does your daughter like them as much as I do? Does she have a favorite bento?
Sonia: My three year old Quinn says, "I like ALL of them!" Sometimes, she doesn't like certain things in the bento. Sometimes the green beans are too chewy or she's not a fan of a teriyaki sauce on a piece of meat. But the sensei has her finish her food.
Are there some products and tools we can buy online to help create bentos, too?
Sonia: Living in Japan, I'm super lucky to have bento supplies at my fingertips. They are everywhere, even at the grocery store! Products that I use every time can be ordered on Amazon.
Five Must Have Bento Box Tools
Sonia: Tiny scissors and tweezers are a must. Spaghetti noodles are my secret weapon. They can attach foods, and actually soften by the time lunch rolls around so they are entirely edible! I use mayo to help make things stick- like the face on a rice ball. Nori sticks without a problem to rice, but not to bread. The mayo helps it adhere.
Sonia: It all seems like a lot of extra or unnecessary work, but my kids LOVE them. It's a way to sneak in extra nutrition and veggies. My bentos always include broccoli, spinach or asparagus.
Thank you so much for sharing your wisdom, Bento Master! 
MORE FOOD IDEAS FROM MOMTRENDS
Need more meal inspo for your family?
PIN IT!
Use Pinterest to save your favorite recipes. Be sure to follow our Healthy Eats board