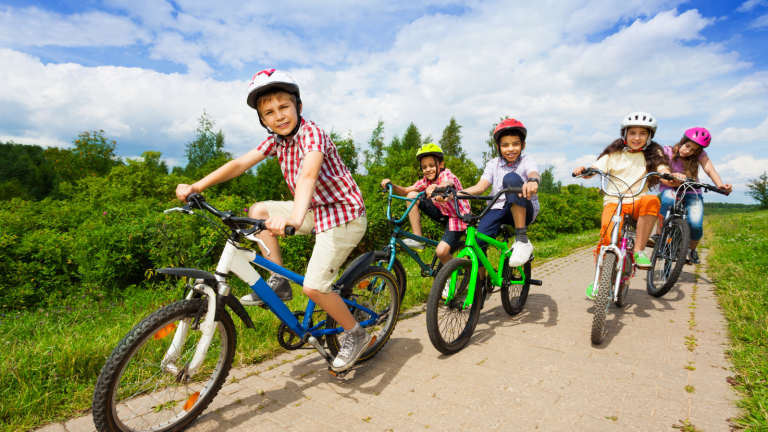 How to Choose a Geared Bike for Your Child
Thinking about moving your kid to a geared bike? We're talking with a bike expert to give you all the info on how to choose the best kid geared bike.
Thinking about moving your child up to a geared bike, but not quite sure when to make the switch or how to introduce them? Confused about the different types of shifter styles and does your 8-year-old really need 28 speeds? We're talking with a bike expert to give you all the info on how to choose the best geared bike for your kid.
Related: Top tips to teach your child to ride
Late spring is the perfect time to talk bikes. May is National Bike Month (a few days left to celebrate!), the weather is starting to get warm, and the parks and trails and street corners are bursting with wildflowers, new blossom and perennials popping up from the ground. It's a great time to go out and explore on a bike.
How to Choose a Geared Bike for Your Child
Step 1: Choose the right bike frame size.
Before you worry about gears, you have to make sure that your child is riding the right size bike. Kid bikes are measured by their wheel size, not frame size. The most common wheel sizes are 12", 16", 20" and 24" though some brands will offer in-between sizes like an 18". While there are some height charts that can help direct you towards a bike size, the best predictor is what size bike your child feels comfortable with.
Don't max out the seat height so that your child is standing on their tippy toes. Find a bike fame that feels comfortable and safe to the child.
Step 2: Introduce hand brakes first.
You can't get to gears before you introduce hand brakes. Many kid bikes like the Schwinn Aerostar come with dual brake options - both a coaster pedal brake (the kind where you pedal backwards to stop) and a hand brake so kids can practice hand braking while still having the safety net of a pedal brake.
It's also wise to look for a kid bike with an adjustable brake lever, says Joe Vitale of Danzeisen and Quigley bike shop. This means the brake handle itself can be adjusted closer to the bar so that the child's hand can reach the level and pull it to effectively stop.
Step 3: Twist vs. Push-Button Gear
There are two types of gear: a twist gear, where you twist the actual handlebar to shift, and a push-button gear, where you use your thumb to push a lever on the handlebar to shift. "At a younger age, I've found that most children find it easier to use a twist grip," says Vitale. "Often times, kids don't have the strength in their thumb to push a push-button shift. So the twist grip is a great place to start."
With a twist grip, your child's hand is already holding onto the handlebar so there is no additional movement to shift and you don't have to worry about if their thumb is a) strong enough or b) can push far enough to actually click the shifter.
Step 4: 7 vs. 21 Gears
More is not always better - especially when it comes to introducing bike gears. "For 5-7 years-year-olds, stick with 6-7 gears," suggests Vitale. This means there will only be a gear shift on one handle bar and only on the back wheels (instead of the back AND the front). This is a decent amount of gears to introduce your child to shifting and let them feel the difference on hills and straight-aways without overwhelming them with options.
A bike like the Trek 20" Superfly is great place to start with its 6-speed twist-grip shifter and an adjustable reach brakes lever to ensure your child can stop safely. While Trek bikes are more expensive then what you'll find at your local big box store, I think that it's worth spending more as your kids move into gear bikes. 
I've always been impressed with the sturdy construction of Trek bikes and their adjustability to both fine-tune the bike's fit to your child and allow it to grow as your child grows. Many kids will stay with a 20" size for 2-3 years and Trek bikes like the Superfly can adjust to help you get the most ride for your money. Once kids are ready for a 24" bike, choosing a bike with 21 or even a 28 gears will give older rides plenty of options for climbing bigger hills and going faster on straightaways.
Looking for more bike recommendations? Check out our age-by-age list of the best bikes for babies through teens.
Have you moved your child up to a geared bike yet?
MORE BIKING FUN FROM MOMTRENDS
PIN IT!
Need more ideas on what to do with the kids? Be sure to follow our Activities to Do with the Kids board on Pinterest here.
Momtrends was not paid for this post