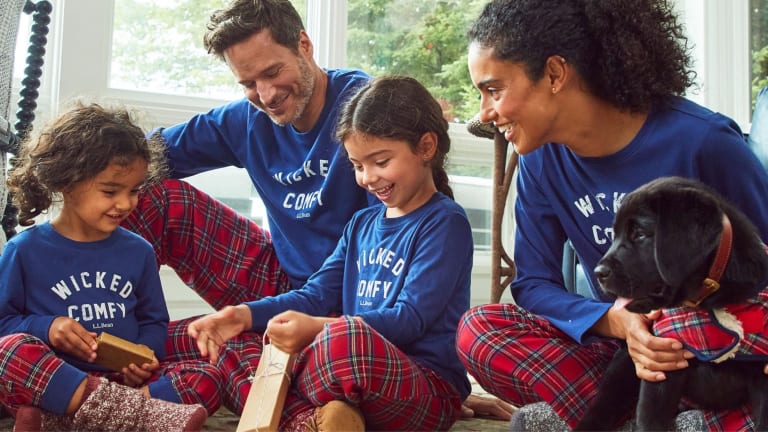 Holiday Family Pajamas Favorites
Six of the cutest matching family sleepwear sets to keep your family cozy and cute this holiday.
Every year, for as long as I can remember, my sister and I have opened one gift on Christmas Eve...It's the same thing every year...Since we were kiddos, our mom has given us pajamas. And sometimes they even match. Yes, you read that right. We're in our thirties and still get matching pajamas. Haha! But I digress...Now that I'm a mama, I've found myself carrying on the tradition and wrapping up pajamas for my own babies. We want you in on this trend and we're sharing our holiday family pajama favorites.
There is something so sweet about seeing a family all decked out in cute jammies. Don't you think?
Related: How to create the best holiday photo card
Holiday Family Pajamas Favorites
After we open our pajama packages, we all change into them, pop some popcorn and settle in to watch our favorite holiday flicks. It's a family tradition, I hope never ends! And since, I know I can't be the only pajama lovin' gal out there, I've rounded up a slew of pajamas for you for the whole family. From baby to mama, you're sure to find a little something for everyone!
I'm not above making the WHOLE family don matching pajamas...and that includes the hubs. I mean what an amazing photo opp right? I don't know what's cuter than a little lady being held by her daddy wearing coordinating pajamas...Oh yeah, that pic is SO happening! And these family pajamas are just the ticket!
Hanna Andersson Grinch Pajamas
Arguably the BEST way to shop for the family is via the link builder. It makes shopping for everyone simple. And we all know the sizing and shopping can be a struggle. I love the Grinch print from this year and Hanna's site makes it really easy to coordinate all the sizes. All organic cotton.
Shop the Hanna Andersson Collection here
Tea Collection
Tea Collection has been in the business of designing the cutest holiday prints for more than a decade. This year, I'm smitten with the reindeer pattern, I love the rich red color and we all know they make the softest cotton. And you've got to love that even your pup can get involved in the fun with a matching bandana. And why wait for Christmas, get your matching pjs now--it would make a darn cute holiday card don't you think?
Shop the Tea Collection Pajama offerings here.
Monogrammed Petite Plume Pajamas
If you want a something a little fancier, try this posh PJ sets. We got our daughter a set a few years ago and they were an instant hit. Now they have come up with a complete family collection. I adore the timeless "Sleigh Bells in the Snow" print. The collection includes dad, kids and even some accessories. It's made from high quality brushed cottons and feature piping with a pearl button finish. Very Miracle on 34th Street in inspiration.
Draper James and Lands' End
This year Lands' End teamed up with Reese Witherspoon's brand Draper James for a holiday collection. Proceeds benefit Girls Inc., a nonprofit organization that supports girls in a safe environment through mentoring relationships, advocating for legislation to increase opportunities for girls and educating the media on issues facing girls. I love this festive gingham print and think Lands' End was smart to freshen things up with lively set of designs!
Shop the collection on Draper James here.
The Company Store Flannel Pajamas
The fact that their pajamas are made out of 100% cotton flannel should make them uber warm and comfy, which should also help you sell the family pajamas concept to your husband, should he not immediately jump at the idea. Haha! Sizes run from toddlers to adults...and yes they have dog gear too. They offer a variety of prints, but I pick the star-gazing bears. Prices are very affordable.
L.L.Bean Classic Flannel Sets
If you've got picky teens or lots of boys to dress, the classic flannel and tee combo from L.L.Bean is a great option. The Wicked Comfy set from L.L.Bean could make even the most grumbly teen participate in the fun. The set includes an outdoors-inspired graphic long sleeve tee paired with cozy flannel bottoms in coordinating prints.
Shop the LLBean Collection here.
More Holiday Fun from Momtrends
PIN IT!
Use Pinterest to save your favorite holiday ideas and be sure to follow our Holiday Recipes and Crafts board here.
Momtrends was not paid for this post. It does include affiliate links.