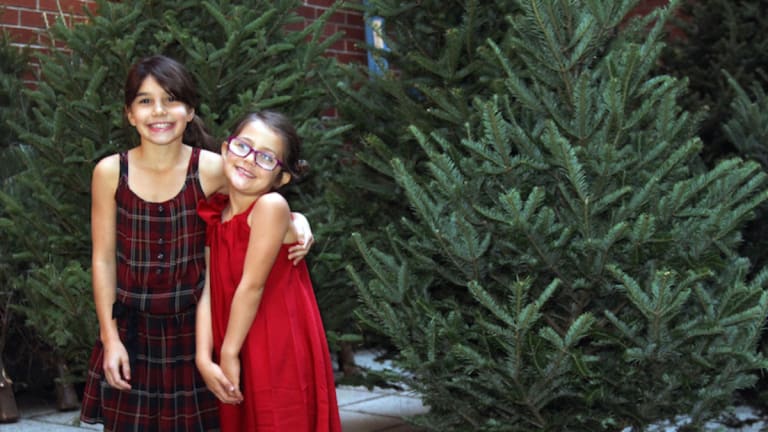 Holiday Fashions from Ralph Lauren
Dressing up in Christmas in the Ralph Lauren children's collection
We all love dress up. When it's time to strike a post for cards or special photos, I'm luck to have girls who leap at the chance to go glam. Putting on holiday dresses takes absolutely no arm twisting, especially when it's Ralph Lauren doing the designing.
If you haven't been following along for the past eight years, you might not know that prior to launching Momtrends, I spend close to a decade working for Ralph Lauren. When I managed the store on Madison Avenue in NYC, I especially loved the holidays. No designer can touch Ralph when it comes to holiday dressing.
This year, I'm sharing a very special photo shoot. Again, if you haven't been following along, you'll know the girls don't regularly appear on Momtrends. We try to keep their little world private, but when it comes to dressing up in Christmas finery, well, I just can't resist.
A word about the setting. You may wonder where cityfolk get Christmas trees. Well, in DUMBO Brooklyn we've got a sweet little stand in our neighborhood. It was the perfect place to model these pretty frocks.
This red swing dress really moves beautifully and the color is so rich and gorgeous. The dress ended up being really popular and is now sold out but, I know you'll find something great!
The Ralph Lauren Childrenswear Girls' Tartan Bib Dress IS still in stock. And for your tweens, it's a delightful mix of uptown and downtown.
Fancy shoes are a must at the holidays. No you can't pair sneakers with these pretty items. We paired the red dress with the plaid Allie Flat and the skull & crossbones Velour Jayde flat was a HUGE hit with my older daughter.
Then there's the grown-up section. I swooned over the Lauren Ralph Lauren Illusion Lace Dress. The top is so pretty and lacy and just the right amount of sheerness. The bottom flows out prettily and ties with a bow at the waist--a style that is universally flattering and nips in any waist.
The dress made its party debut this weekend. The reviews are in and they're great! 
Momtrends was not paid for this post. We were provided with a sample. This post may contain affiliate links. By clicking and shopping, you help support Momtrends and allow us to keep reporting on trends.