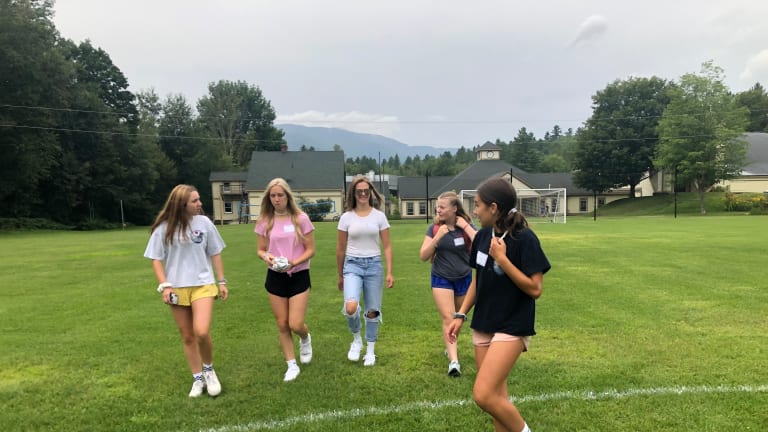 Helping Teens Cope with Stress
Experts relay tips for helping teens during the extraordinary time of social distancing and COVID-19
Today the New York Times offered a lifeline to those of us dealing with teenagers during the peak COVID19 isolation. The seminar was called "Well: Teens in Lockdown" and it was extremely informative and reassuring.
Related: Meditation tips for sstressed out moms
Tara Parker-Pope facilitated the chat. She's a columnist and Founding Editor of "Well" in the New York Times. Lisa Damour joined Parker-Pope as the expert. Damour is a psychologist and columnist for The New York Times. I listened in on the 45-minute call and took notes. I'm sharing my takeaways from the call.
Lack of Motivation
Right now many teens are struggling to feel motivated and many of us can find them slumped on a sofa complaining of boredom or flipping through TikToks.
The experts reminded us that what teens are grappling with is HUGE. Think about it. The teenage years are when our kids start gaining autonomy and independence. Their friends become the center of the universe. All of this is appropriate and we've taken it away from them.
I know we didn't really do it, but we are the ones enforcing the rules of social distancing. 
As Parker-Pope put it, right now kids are getting "All vegetables and no dessert." They have to do all the schoolwork without the fun of all the free time associated with going to school. A normal school day runs from 8-3. Sure, there are classes and academics, but there's also plenty of time to socialize. Now school is just school.
All Bets Are Off
The doldrums can also be blamed on the fact that teens are in limbo. The usual time pressures of spring just aren't there. For many kids, they are now pass/fail at school. Extracurriculars are largely cancelled. This means more free time and less structure. 
The experts reminded us that busy kids are often productive kids. I know from my experience raising a serious athlete, that when she's "in season" she gets down to business. There's no procrastinating during her peak season. Since all the competition is off, my daughter and other athletes are missing a big part of what drives them to get work done and helps organize their day. It's no wonder motivation is hard to come by.
They've Lost a Lot
Not only have their social lives taken a huge hit, they are also missing out of all the fun parts of spring. There are a lot of prom dresses that won't get worn. And if you had a senior set to graduate, it's hard to console them. These kids are the lucky ones. They haven't lost loved ones to the virus. 
In short, a lot of empathy is in order.
Help For Teens During COVID19
Ok, we feel the pain, now what? I appreciated the reminder to be empathetic, but even more so, I am consoled knowing that I'm not alone. In addition to the solidarity, I took away a few actionable items from today's chat.
Add some structure. They will feel better if they do something productive with their day. The experts reminded us to be cautious about throwing all the rules out the window. For us, that means a daily planner and a checklist. They are starting to find joy in the simple task of checking things off.
Allow Zoom and Facetime. While I might think they are talking about nothing, it's OK. They are connecting with peers in an age-appropriate way. These interactions serve a purpose that is higher on the list than simply scrolling through social media. Not all screen time is created equally.
Let them come up with boredom busters. When you hear the complaints of "there's nothing to do" "this sucks" and "I'm bored," the first reaction is to come up with ideas. Those are often shot down. A better approach is to empathize, offer a few ideas and then try this. The experts suggest this dialog: "While I know sitting on the couch is making you feel better for now, but it won't forever. What are some things you'd like to do?" In essence, recruit the more mature side of the teenager into problem solving.
Don't dismiss how hard it is. Continue to validate what they are feeling. It's going to require wells of patience. Make sure you are taking care of yourself (meditation, exercise, zoom chats with your friends) so you can help your kids. It's the old adage of putting you own oxygen mask on first.
Reassure them. If and when your child is in a reflective mood, look back in history at the hard times. Let them know our country has battled hard times before and we get through it. Perspective is wonderful. Keep reminding them that they'll get to the other side of this. As bad as it is, it is a shared experience with your peers. 5-10 years from now this will be a defining moment in the life of a teen.
Remind them emotions are OK. Psychological health doesn't mean always feeling good. Mental health requires feeling all the feelings. The trick is: having the right feeling at the right time and being able to bear the unpleasant ones. 
 A Moment in Time
Young people have experienced a real loss. The experts reminded us that this is the first real trial of their lives and it's a HUGE one. It's inevitable that most kids are going to get a bit snippy and edgy. For them to feel great about themselves they need to feel connected and accomplished. Right now those are elusive goals. When self esteem is low, that's when parents get the nastiness.
Here's my mantra for the next few months.
First empathy.
Nudge in the right direction.
Offer perspective.
If you can think long term, this might even be a gift for them. Our young adults are learning that they can bear more than they thought they could. 
Get more advice from this article from The New York Times 
WANT MORE WELLNESS FROM MOMTRENDS?
PIN IT!
Use pinterest to save your favorite ideas from Momtrends. Be sure to follow our Fitness and health board here.