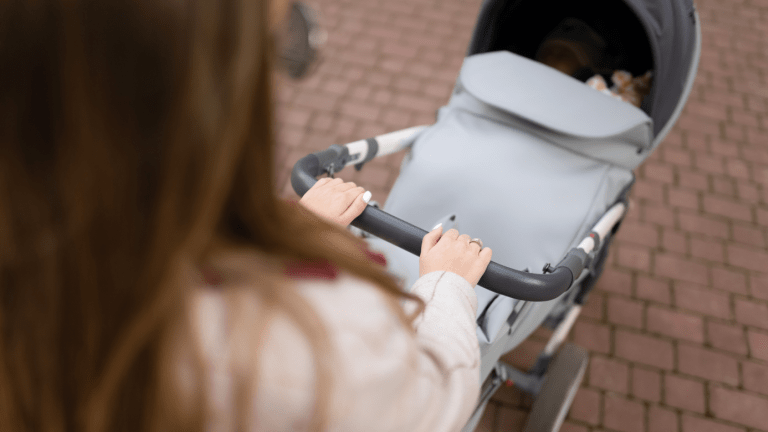 Help Picking Out Baby's First Stroller
Use our tips for buying your first stroller and get ready to check one item off your registry.
We're here to help you pick out your baby's first stroller. Over the years as a stroller tester for Momtrends, I've road tested more than 100 strollers. And I'm here to tell you research pays off. Use our tips and get ready to check one item off your registry.
Related: Best double strollers for twins
Picking a stroller is often equated to selecting a car. Both purchases require research, money and deciding on your personality. Do you see yourself as a practical sedan parent? Or perhaps more of a Porsche Cayenne parent? Modern parents have endless options and can spend hundreds of dollars on this purchase so we're here to make this purchase a little easier. 
Things to consider with Your Baby's First Stroller:
Do you plan to use the stroller when traveling? You'll want a light, collapsable stroller than can be carried over the shoulder easily.
Is fashion a concern for you? You may want to find a brand that offer the trendiest colors or partnerships with designers. I wouldn't be surprised if Ralph Lauren came out with one soon!
Do you plan to have another child right away? You may want to consider a convertible stroller right away.
Is a stroller system right for you? Some parents want a package that comes with a bassinet, carseat and toddler seat.
What is your budget? For some spending $100 on Craigslist is fine. For others this is the big splurge.
Pneumatic of plastic tires? There's nothing like the feel of real tires--that being said are you game for keeping air in them?
Shopping Tips for Your First Stroller:
Consider warranties: Anything less than a year is pretty lame.
Last season rocks: Buying last season's models may save you big. No you won't have the hottest colors or trendies features, but you might have extra $$ for that college fund.
Important Stroller Features to Consider
Wide canopies that shield the sun with SPF built in
Sturdy rain cover--it's super cheap to not include a rain cover with the stroller
One-hand steering (gotta hold the java too)
Full recline is essential for napping on the go
Adjustable handle height
Easy to reach basket
Five-point harness
How to Road Test Your First Stroller
Everyone who will push the stroller should test the stroller. Short moms and tall dads alike should be comfortable.
Collapse, switch the seat, click the brake. CHECK EVERY SINGLE FEATURE. Make sure you can do it all with ease. It won't get any easier trying to work it with a fussy toddler around.
Carry the stroller up and down a set of stairs.
Click the harness--if it is too stiff beware! You might catch little finger or thighs in the clasps.
TIP: ALWAYS REGISTER YOUR STROLLER: If there is ever a safety recall you will be notified right away.
MORE MOMTRENDS FOR NEW PARENTS
PIN IT!
Use Pinterest to save your favorite gear for baby. Be sure to follow our Baby Things to love board here.