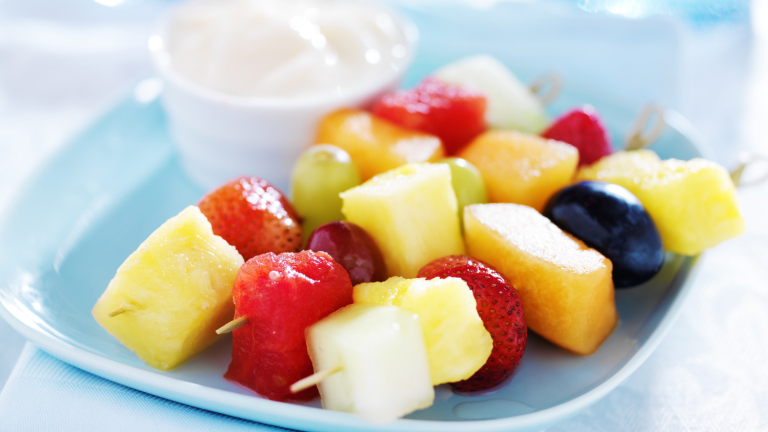 Healthy Summer Snacks for Kids
Five kid-approved, fun snacks that are easy to prep from nutritionist Lisa Drayer
While I am so excited to have a more relaxed schedule during the summer, it also means staying active with the kids and making our lunches on-the-go both healthy and fun for the girls. Lisa Drayer, M.A., R.D. also knows how hard it can be to get kids interested in healthy eating, but as a nutritionist she understands the importance of wholesome foods to a child's growth and development.
Through the years, Lisa has developed creative ideas for snacks that are both nutritious and kid-approved. Children enjoy making and eating the snacks below, and most travel well in the lunchbox, too!
Five Healthy Summer Snacks for Kids
Fruit kabobs: Cut cantaloupe, honeydew and pineapple into chunks. Wash and halve some strawberries, and wash a bunch of blueberries. Thread the fruit onto small wooden skewers, alternating colors, and then remove the skewers sharp ends before serving.
Peanut butter face: This playful dish provides your child with protein and fiber. Spread all-natural peanut butter on one slice of whole wheat bread, then top with two banana slices for the eyes, two orange segments for eyebrows, a strawberry half for the nose, and a string of raisins to make a mouth.
Turkey roll-ups: You and your child will have fun preparing this low fat but protein-rich snack! Spread low-fat honey mustard dressing on a whole-wheat tortilla. Place a slice of roasted turkey (avoid highly-processed deli meat that contains nitrates and fillers) and a slice of Swiss cheese on top. Roll it up and slice into bite-size pieces.
Creamy orange smoothie: This orange refreshment is full of protein, calcium and vitamin C perfect for after soccer or gymnastics. For four 8 ounce servings, combine 2½ cups low-fat plain yogurt, 1 teaspoon vanilla extract, 1½ cups fresh orange juice and 3 teaspoons natural sweetener. Blend until smooth. Serve well-chilled.
Crunchy chocolate-dipped kiwis: This treat has antioxidants and vitamin C. Heat one ounce of dark chocolate in the microwave for 30-second intervals until soft; stir until smooth. Dip four peeled and sliced kiwis in melted chocolate. Place on wax paper and sprinkle with almonds, then chill until the chocolate solidifies.

Momtrends was not paid for this post.