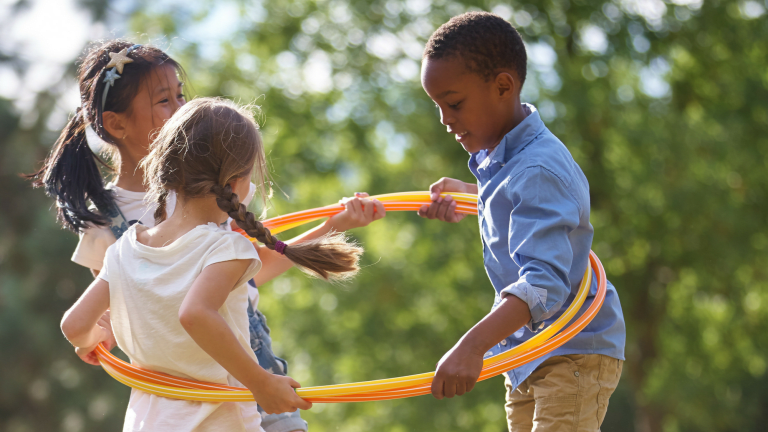 Healthy Grab & Go Snacks
Get Day-Camp Ready
Summer has only just begun for some of us east coasters, but we know day-camp is already in full swing no matter where you reside. We chose to send our littles to a local day camp for a few hours a day. It has struck just the right balance for us and, so far, so good. 
All three of the kiddos will need a camp-ready, grab-and-go snack each day. Now, I already shared how I count the days until summer vacation by how many lunches I have to pack, so fussy snacks and I are not going to get along. Although I do really love to cook with my kiddos (try these!), busy moms like me also love healthy "grab-and-go" snacks. 
Lucky for you, I have been scoping out the latest snacks on the scene and am happy to report that they are healthy, tasty and convenient! (That's the snack trifecta, no?) 
We wanted to be the first ones to test out a new line of protein bars and with five yummy varieties, we found one to suit everybody's palette. These thinkKIDS protein bars offer 7 grams of protein and just 4 grams of sugar (much lower than others!) and are a great grab-and-go camp-ready snack. You can find them at Kroger and Target. Hint? They are super-yum when frozen.
Stonyfield Pouches have always been a hit. I used to freeze them to help with teething and now I love the protein-packed pouch for an easy (no spoons required!), healthy grab-and-go. Stonyfield has a variety of pouches to suit all the growing needs of your children and just enough tasty choices to satisfy each of my campers. We freeze Stonyfield Organic Kids tube yogurts, and by snack time they're perfectly thawed for a cool treat. With 40% less sugar than the leading low-fat kids' yogurts and 9 grams or less of sugar per serving, Stonyfield Kids is always made with USDA organic, non-GMO ingredients, and is perfect fuel for busy summers. Fun summer flavors range from strawberry banana, blueberry lemonade to the newest member of the lineup, Choco Mooo!

I was never one to try a traditional portable "snack tray", so when Niman Ranch's offered us to try their snack packs, I was reluctant. I should not have been so quick to judge. The Niman Ranch packs are tasty and convenient on-the-go sustainable protein from the first ever domestic charcuterie line to be Certified Humane. The beef, pork and lamb are sourced from a network of independent U.S. family farmers and ranchers who raise livestock traditionally, humanely and sustainably across the country. In addition to the highest animal welfare standards, the products are raised with no antibiotics or hormones – ever!  The snack packs are available at select health food and grocery stores nationally as well as through Amazon Fresh. 
If your child reads, "snacks" as a mini-meal then you'll love the refreshing and scrumptious Tio Gazpacho soups on the go. I love getting in extra servings of veggies and my kiddos have loved the varieties of soups from Tio Gazpacho. Tio Gazpacho is a bottled, chill soup that are free of any mystery ingredients, certified organic, non-GMO, vegan, gluten-free, dairy-free, soy-free, and each bottle is packed with an abundance of nutrients and fiber derived primarily from vegetables.
If you're looking for a snack that is GF yet is not hiding behind the label, you'll want to check out Soozy's muffins. I don't let the kiddos eat muffins unless I make them because they are always loaded with sugar and calories and are more of a cupcake than anything nutritious, YET Soozy's muffins are nutritious, delicious and are a great option as a grab-and-go snack. My daughter loves the sweet potato variety. Rest assured that they are made with clean ingredients; I can send them with the kiddos knowing they will be a yummy source of fuel, not a treat that will weigh them down.   
And you know we are always looking out for ways to be good to our heart and we want the kiddos to do the same. Heartbars are a grab-and-go bar (Under 200 calories) that work to be kind to your heart. They contain plant sterols (to work to block bad cholesterol) high fiber, are low in sodium and they contain cardio-preventive ingredients too. 
This is not a sponsored post. This post may contain affiliate links. Some samples were received.