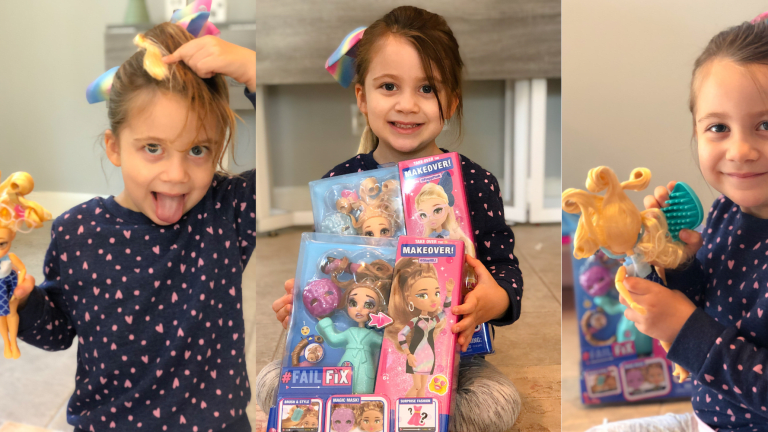 Having a Meaningful Makeover (or Makeunder!) Moment with #FailFix Dolls
My girlie-girl loves a makeover moment. I can't even tell you how many times I've walked into the bathroom to see her covered in bronzer and lipstick and eyeshadow. (I really have to find a better hiding spot for my makeup bag). Then there was that time she was desperate for a haircut, and took it upon herself to snip bangs with safety scissors. (I'm relieved and still kind of shocked to say that it actually came out pretty cute.) And, fair warning, if you fall asleep in her prettifying presence, she will give you a surprise manicure. Yeah, you'll wake up to french tips and adequate smudging; but, hey, she's having -- so no harm, no foul.
Penelope definitely has a growing passion for all things fashion and beauty; girlfriend even loves a good YouTube beauty tutorial. Basically, what I'm trying to say is: my daughter is a real life #FailFix doll.
If you're not familiar, Moose Toys' #FailFix dolls are a must-have this holiday season. These adorable, sassy beauty-maven dolls went a little heavy handed on hair and makeup products whilst trying to emulate a trendy online tutorial. And, now, you need to help fix your dolls' fails.
Clearly, this is right up Penelope's alley. She was so excited when I surprised her with @PreppiPosh and @SlayItDJ. She loved that she got to play fashion consultant, esthetician, and hair stylist. Best of all she was happy that she got to save the day for her dolls -- because Penelope has been there done that with a face full of runny makeup, and she knows just what to do. (And I was excited to take part in the process, too!)

First, Penelope removed her dolls' robes to see if she got rare or ultra rare ensembles. Next, she removed the "items" out of her dolls' hair. (Yeah, things went truly awry for @PreppiPosh and @SlayItDJ -- and, somehow, they got their accessories mangled in their manes!) Then, she applied the rejuvenating magic face masks; as her dolls relaxed and enjoyed the pampering session, Penelope brushed their stiff hair out until it was smooth and gunk-free! (BTW, this reminded me of the time Penelope put a whole glob of slime in her hair -- another story for another day.) We removed the masks at this point to reveal their fresh-faced and beautiful new looks. (I should mention the "before" masks snap right back on, so your dolls can go to the spa time and time again!) Finally, we accessorized them -- they come with all kinds of fun goodies -- and put the finishing touches on their hairdos.
It really was so satisfying giving our #FailFix dolls a head-to-toe transformation. And while it all might sound a little silly or superficial, it really sparked a deeper conversation. Penelope and I giggled about removing a boot from her doll's hair, but we also talked about how it's okay to make mistakes, how beauty is subjective and perfection is unrealistic, and how girls need to help each other out.
As a mom, I covet toys that keep my kids engaged (and -- let me just tell you -- brushing out a #FailFix doll's hair takes time and commitment!), but I really value items that instill an important message. #FailFix dolls do both. What's more, the line of five dolls features diversity of skin tones, body types, and style aesthetics -- further fueling the lesson that we are all different, and that our unique features make us individually special.
These are among the reasons #FailFix was nominated for a Toy of the Year Awards, and a finalist in the doll category and it was awarded in the National Parent Product (NAPPA) Awards.
Penelope wants to complete her collection of FailFix dolls, and I'm happy to oblige. And the next time she decides to put on half a tube of lipstick, style her hair with slime, or chop off a single lock (or two -- eek!), I'll try to remember that she's just expressing her creativity -- and that we all have our own not-so flattering moments. Of course, I'll also help her fix that fail -- because girls should have each other's backs -- and makeovers -- covered.
Follow #FailFix and Moose Toys on Facebook, Twitter, Instagram, and YouTube. Visit http://www.moosetoys.com to learn mor