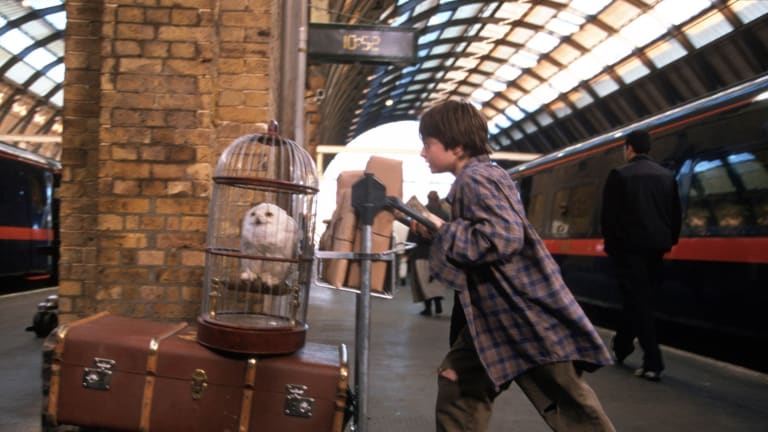 Harry Potter Virtual Events
First-Ever Virtual Back to Hogwarts Enjoy the Magic at Home
I bring news from the Wizarding World of Harry Potter. Every year, Wizarding World fans celebrate "Back to Hogwarts" day on September 1. This year, the day will be celebrated with a magical program of virtual activities leading up to and on day-of so we can all enjoy safely from home. This is the first-ever virtual "Back to Hogwarts" celebration.
Related: Harry Potter DIY  book mark
Each year, on September 1st, Harry Potter fans have gathered at London's Kings Cross Station. At 11:00am precisely, they raise their wands joyfully to mark the Hogwarts Express' departure from Platform Nine and Three-Quarters, as it takes students to the fabled school of witchcraft and wizardry for another year of magic and adventure. For the Class of 2020, the celebration has gone digital, so more fans than ever before can join in!
Here are some of the things to expect from the Harry Potter Fan Club:
With a community of over 19 million, fans can join the official Harry Potter Fan Club for free and be among the first to get access to curated experiences from across the Wizarding World, including an official Fan Club newsletter and other exclusive member benefits. 
Hearing from some of the creative masterminds responsible for bringing the magic to life, (including genius wand choreographer Paul Harris, who will be demonstrating and teaching the art of Wand Combat)
Transporting themselves from the muggle-world into the magical one by listening to the Journeys to Hogwarts Soundscape - a Harry Potter immersive audio experience featuring all the sounds you'd hear on that iconic journey. Simply close your eyes and let your imagination roam!
A CineConcerts performance featuring orchestras from around the world playing memorable musical selections from each of the eight Harry Potter films at home
A sneak peek of the brand-new House of MinaLima on opening day, featuring Miraphora Mina and Eduardo Lima, plus exclusive Back to Hogwarts 2020 celebration artwork, which was created especially for the occasion and is also available as a limited-edition art print!*
Going back to where the magic began with the celebrity readings of Harry Potter and the Philosopher's Stone (accessible exclusively for registered members of the Harry Potter Fan Club)
Plus, a host of Hogwarts-themed, inspiring craft ideas and creative tutorials for all ages
The digital event will kick off at 5:30 a.m. EST on September 1st, and fans can tune in live or following the event by visiting www.wizardingworld.com, where the livestream will be hosted. Sign up for free for access to digital content and activities, and, of course, to officially get sorted on WizardingWorld.com. 
MORE HARRY POTTER ON MOMTRENDS
PIN IT!
Get more inspiration from our What to Read page on Pinterest.
Momtrends was not paid for this post. Photo images: Credit: Universal Orlando