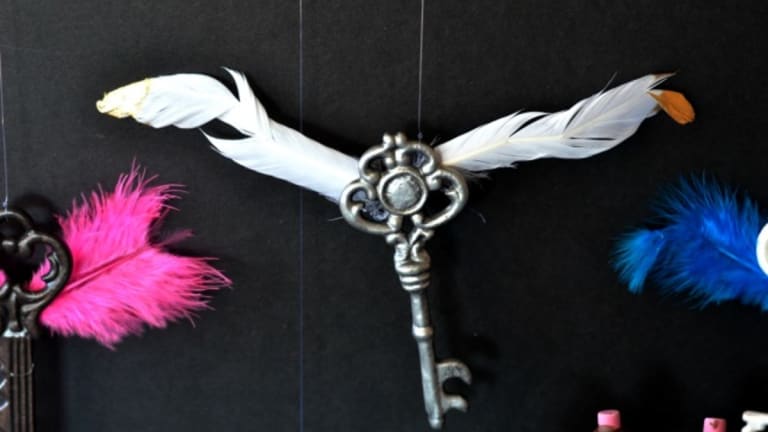 Harry Potter Viewing Party
A Harry Potter party is a fun way to end the summer with wizarding craft, snacks and a movie.
This summer, my daughter and I read Harry Potter And the Sorceror's Stone together. It's a little too advanced for her reading level, so I did most of the reading. But I knew she would love the magical story line. We had several other friends who were also reading the first Harry Potter book with their kids this summer. I knew a Harry Potter party would be a fun way to end the summer with a showing of the movie the kids have been reading.
Harry Potter Party Food
I was a huge Harry Potter fan when I was a teenager, and still am, so this party was partly for me. I was excited to shop for Bertie Bott's Every Flavor Beans and Chocolate Frogs to serve.
We created golden snitches with Forerro Rochor, hot glue and some gold tipped white feathers.
Spoiler alert: One of my daughter's favorite parts during the movie was the end when Harry, Hermoine, and Ron have to save the sorcerer's stone. She loved the idea of the flying keys. For our Harry Potter party, I found these antique-looking keys at Michael's. I knew they would make a great background and glued some feathers on them to look like the flying keys in the movie.

Harry Potter Wands Craft
I created Harry Potter wands out of pencils and sculpey clay.
First, start by creating a snake and making a design around your pencil. The eraser end is the end you would hold when casting spells. Bake the clay as directed and once hardened you can paint your wands. I mixed a combination of brown, purple, silver, and gold paint to create different magical patterns.
To finish off our Harry Potter Party favors I picked up a few pretty tags and labeled them as the wands in the movie were labeled. First, write the kind of wood, the length of the wand and what special element the wand contains.
This would be a fun viewing-party favor (perfect for back to school too) or if you have more time the kids can create their own pencil wands.
During the movie we served Bertie Bott's Every Flavor Beans and Chocolate Frogs that seemed like they came straight off the Hogwarts Express trolley! Those beans get me every time and the chocolate frogs actually contain wizard cards which everyone loved!
Our last little touch of magic was creating a potion in "Snape's Potion Class." We used mini bottles with colored water, vegetable oil, and effervescent cold medicine to create bubbles.
Our Harry Potter viewing party was a success and so much fun to put together!
And these great Harry Potter reusable tumblers from Tervis are perfect for the goody bags or drinks. Get them on Tervis here.
Have your kids read the first Harry Potter book yet? Did you throw a viewing party?
Shop! Buy the book Harry Potter and The Sorcerer's Stone and then watch the movie.
More Harry Potter on Momtrends
This is not a sponsored post. All opinions are our own.