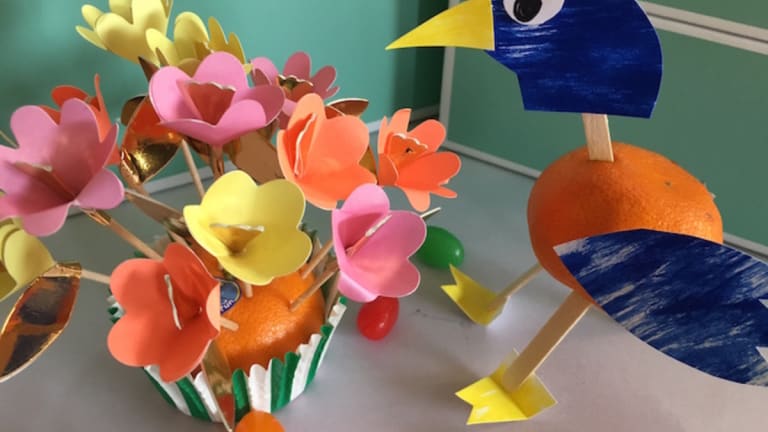 Halo Mandarins: DIY Healthy Easter Treats
Check out our Easter DIY treat ideas for kids using Halo mandarins!
Amongst the Peeps and jelly beans, finding a way to convince your family to eat a delicious treat that isn't sugar coated can be tricky...especially this time of year when all the say is Easter candy everywhere. We've come up with solution however. Behold...Our super cute and simple ways to help entice your loved ones to choose a healthier alternative. Check out these fun ideas to dress up your Halos mandarins for Easter!
Related: Three free Easter printables
Halo Mandarins: DIY Healthy Bunny Snack
1. This after school treat is also great in a lunchbox. Peel your Halo and use half as a bunny face and two slices for ears. Pop on chocolate chips for eyes and a nose! 
Momtrends Tip: Try this for the next playdate you schedule.
Halo Mandarins: DIY Healthy Easter Bouquet
2. Create a mandarin garden! This is fun for a party or brunch. Place your Halo in a cupcake liner and poke cake toppers into the mandarin to make a "garden".
Halo Mandarins: DIY Bird Snack
3. This bird is also part art project. Start with coloring the bird parts in. Every garden needs birds! Use coffee-stirs for legs and a neck and add paper wings, feet, and a head.
More DIY Healthy Easter Treats
Here are some more sweet ideas on how to make your Halos the perfect Easter treat! Enjoy getting crafty!
And for even more Halo treat ideas, check out our Easter party post from last year! I daresay you'll find plenty to add to your family's Easter fun this year.
MORE EASTER IDEAS FROM MOMTRENDS
PIN IT!
Use Pinterest to save your favorite entertaining ideas. Be sure to follow our Easter Pinterest board here.
This is not a sponsored post.