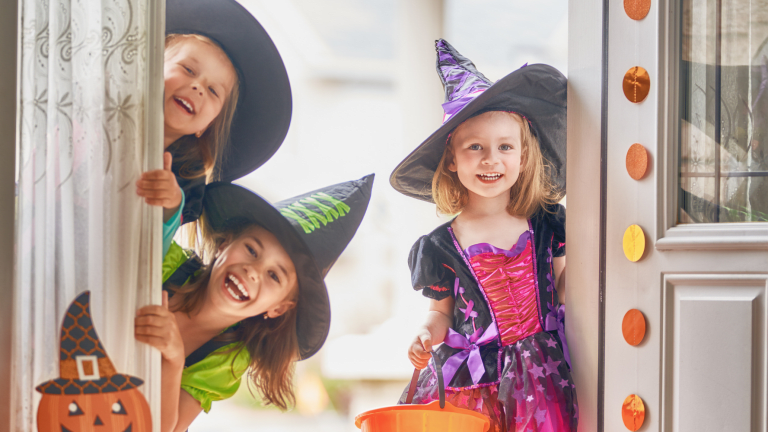 Halloween Safety Tips for Trick-or-Treaters
Stay safe while walking at night. Here are a few tips to instill the rule of safety first!
On Halloween, twice as many kids are hit and killed while walking than on any other day of the year. The sugar rush, yard-to-yard running and sense of community make it easier for a "rules no longer apply" mentality when trick-or-treating--so it's important to take some precautions. Here are a few tips to instill the rule of safety first!
Related: Halloween road safety tips
Carry glow sticks or flashlights, use reflective tape or stickers on costumes and bags.
Always walk on sidewalks or paths, and if there are no sidewalks, walk facing traffic as far to the left as possible.
Cross the street at corners, use traffic signals and crosswalks and make eye contact with drivers before crossing in front of them.
Put electronic devices down and keep heads up as you walk across the street.
Watch for cars that are turning or backing up, and don't cross between parked cars.
Make sure costumes aren't too long so kids don't trip on curbs or stairs. Masks can make visibility tough for kids, so choose face paint instead.
Join kids under age 12 for trick-or-treating. If kids are mature enough to be out without supervision, tell them to stick to familiar areas that are well lit and trick-or-treat in groups.
WANT MORE HALLOWEEN FROM MOMTRENDS?
PIN IT!
Be sure to follow Momtrends on Pinterest and for more spooky inspiration follow our Halloween and Thanksgiving Boards here. 
This is not a sponsored post. Tips by FedEx has teamed and Safe Kids Worldwide. Find more safety tips from both organizations + here's a video that encourages the use of glow sticks or reflective clothing.