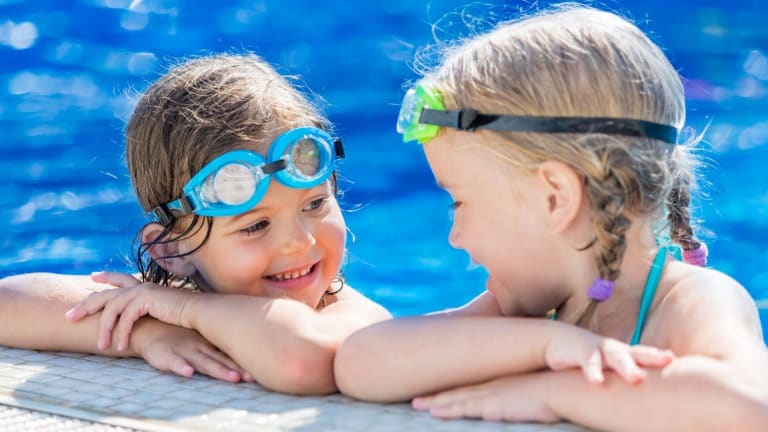 Great Life Vests for Little Kids
A cool water safety device can make water activities with kids safe and fun.
A cool water safety device can make water activities with kids safe and fun. More than 900 children drown each year in the United Sates. In fact, it is the second-leading cause of unintentional death among children 1 to 14. In the case of drowning deaths from boating accidents, 90% of the victims were not wearing life jackets. Sea Squirts have created a cool-looking, neoprene life jackets that kids want to wear.
Related: Why kids should learn to swim
With many families heading to the beach or on water-filled vacations over the next few weeks we wanted to remind everyone to be safe...and stylish. Sea Squirts are life jackets and swim assist vests created to look like different types of fish and mammals in the sea. The Sea Squirts design includes a first-of-its-kind flexible fin on the back of each vest. The "fun fin" is not only entertaining for kids as they splash and swim, it is strong enough to be grabbed, to pluck a little one out of the water in an emergency situation.

Other life jacket's we've used have had large arm holes and an uncomfortable groin strap buckled between the child's legs. My girls mostly hated them. These jackets com in three different life jacket sizes with varying armhole sizes -- the buoyancy of the life jacket is carried under the child's arms instead of between the legs. We tested this way-cute clown-fish model this summer and can attest that our little Nemo didn't fuss about this vest.
Sea Squirts come in several designs: Clownfish, Great White Shark, Pink Dolphin, Blue Dolphin, and Killa Whale. The life jackets are U.S. Coast Guard certification. Sea Squirts Life Jackets: MSRP $69.95 -- Street $49.95. Available on Amazon here.
More Summer Fun from Momtrends
Pin it! 
Follow Momtrends on Pinterest for more ideas on how to keep the kids safe this summer and be sure to follow our Summer Fun here.
Momtrends was not paid for this post. We did get a sample.