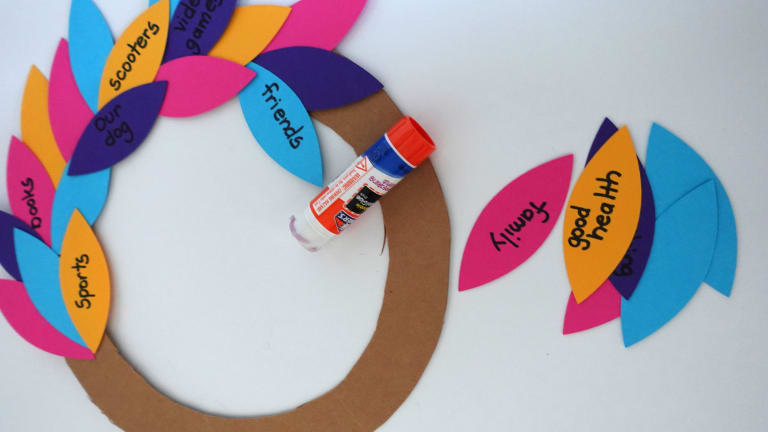 Easy Thanksgiving Craft Gratitude Wreath
This colorful project reminds us of the real meaning of the Thanksgiving season.
In our ever-growing consumer world, it can be tough to teach kids what it means to be grateful. With Thanksgiving coming up, we are sharing this craft to teach our kids what it means to be thankful. It's the perfect time to take on this easy Thanksgiving craft and make a gratitude wreath.
Related: Thanksgiving books to read together with kids
Getting Inspired
To help on this project, we enlisted master crafter Karimah Henry from the site craftingafunlife.com. I love that this project reminds us of the real meaning of the season. It's really a two-part operation. Part one involves crafting, part two involves talking about what makes us thankful.
Since the kids are likely out of school this week, you'll need some ideas to keep them busy. This colorful craft is easy to pull together and would be perfect for the grandparents.  
Gratitude Wreath Supplies
It's a quick supply list. You'll likely have most of these supplies on hand--and you'll even be able to use all those Amazon boxes you have on hand.
Recycled cardboard
Scissors
Glue or glue stick
Cardstock (assorted colors)
Black marker
Ribbon
Plates (large & small to create wreath form) 
Gratitude Wreath Directions
Start by placing a dinner plate on your cardboard then trace around the edge.
Next, place a smaller plate on the cardboard to trace an inner circle to create the wreath form.
Now cut leaf shapes from cardstock. You can use any color for your fall wreath.
Use a black marker to write something you're grateful for on each leaf. Get the kids and grandparents involved
Glue the leaves to the wreath form.
Finally, cut and tape ribbon to the back of the wreath then hang.
This wreath also makes a great centerpiece, and don't feel constrained by fall colors--use what makes you happy!
MORE THANKSGIVING INSPIRATION FROM MOMTRENDS
PIN IT!
For more Fall crafting fun, be sure to follow our Fall Thanksgiving & Halloween board here.
This is not a sponsored post.