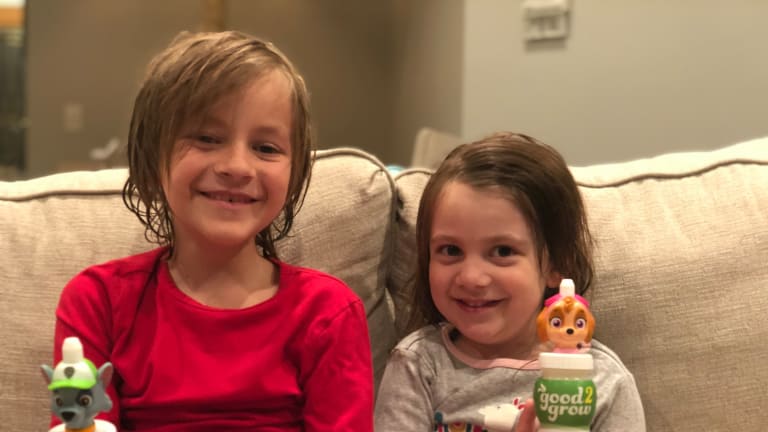 good2grow and Good to Learn
This back-to-school season certainly feels different. As parents, we are consumed by all the uncertainty, hypotheticals, and anxiety. Can we manage another few months of playing parent and teacher? Are we going to be able to facilitate online learning? If they go back into an actual building, will everything shut down in a matter of days?
While many friends around the country are kicking off the academic year with another round of remote learning, our district in the suburbs of New York City is starting with a full five days of in-person learning. I'm relieved, I'm scared, I'm excited, I'm dreading, I'm eager, and I'm confused (clearly).
It's a whirlwind, and I feel a whole range of emotions. My goal as we head into this first month is to take it day by day and development by development. If at any time I feel uncomfortable, I'll pull my kiddos out and go straight back to distance learning. We did it for 12 weeks in the spring -- we can do it again! (But, like, fingers crossed that we don't have to.)
For now, while our local numbers are low and strict precautions are in place, I'm happy to give my kids some sense of -- socially distanced -- normalcy. (Okay, fine, it's anything but the norm to eat lunch alone at your desk surrounded by PlexiGlass, but, hey, at least they'll be forced out of their pajamas during the daylight hours.)
Yes, it's all sounding very sci-fi-ish now, so I want to bring some joy and comfort to all the weirdness -- especially for my Kindergartner who is entering a new building with new people and new friends and unable to experience the hand-holding, teacher-hugging introduction to elementary school that your first year should be.
This is why I'm excited to bring home a smile by adding good2grow's 100% apple juice, fruit punch, and fruit and veggie blend juices to her lunchbox. I can surprise and delight her every day with a different character top spout! There are over 200 collectible options from kids' favorite movies and television shows -- from Paw Patrol to Minnie Mouse to Minions to Trolls and more, so I can switch it up to keep it fun and exciting for her.
They taste delicious, and I love that good2grow beverages are free from added-sugar, preservatives, and artificial flavors and colors. Better yet, the bottles are spill-proof -- and I'm sure their teacher-meets-lunch-lady will appreciate that too. (P.S., big time shout-out to the educators out there who are braving this new teaching territory with enthusiasm and passion.)
Oh, and when my little ones return home from a day of learning? It'll be straight to the showers and back into the comfy pajamas they love so much -- snacktime, juice time and cuddle time on the couch.
It's a strange time and transition, but we're going to make the most of it. Whatever your school year looks like -- whether your littles are learning from the classroom or the living room, we hope you do too.
Good luck, parents, teachers, and eager kiddos! We've got this -- good to go with good2grow
Start the school year off right and order good2grow on Amazon using this link and the code MOMTRENDS25 to get 25 percent off your next purchase -- and comment on this post below with your own hacks for getting through the school year for a chance to win a case of good2grow! One winner will be selected at random and notified on Sept. 16.
This post is sponsored by good2grow.