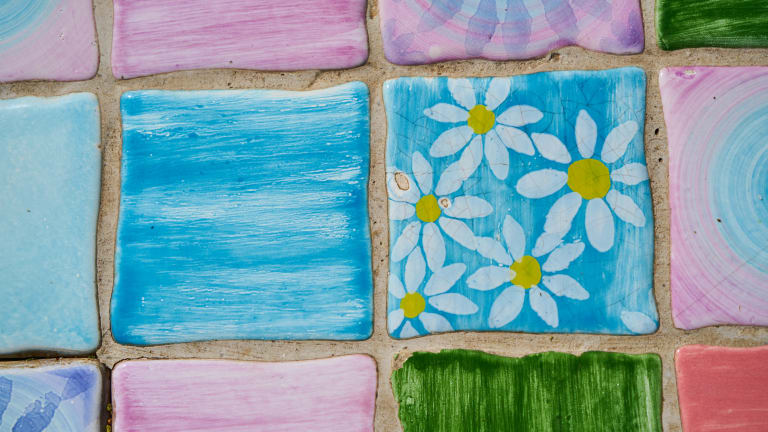 Handmade Gifts for Grandparents
Show some appreciation for Nana and Papa (or Grammy and Gramps) this year with some cute kid-made gifts for the grandparents.
Grandparents are the greatest aren't they? National Grandparents Day is September 7th. Grandparents conjure up memories of old fashioned fun, sweet treats, words of wisdom and valuable life lessons. There are so many reasons we love grandparents.
Related: US Trips for Grandparents and grandbabies, travel without passport
11 Handmade Gifts for Grandparents
We've rounded up some great gifts grandparents will love for Grandparents Day this year and kids will love making. These homemade gifts are great ideas for birthdays and holidays too, so be sure to save this page for later! We've got 11 our our favorites to share with you.
Tear Art Bookmarks 
These bookmarks are great for toddler who like to make messes or could be a fun craft for an older child who could make an elaborate pattern. Find tear art bookmarks at Buggy and Buddy
Pinch Pots
Aren't these adorable? These would make a perfect addition to a working grandma/grandpa's desk. Order your Filmo oven bake clay here. Find pinch pots at Classic Play
Homemade Apron
Got a Grandma that loves to bake? She'll love this simple apron. Don't want to do handprints, let the kids paint a picture instead, whatever they come up with we know she'll love! Make a nana apron at Pin A Day
Painted Ladybug Rocks
Let the kids paint bugs, turtles, or just abstract designs. These rocks will make the garden stand out from the others or could be used for paperweights! Make garden rocks with help from Parenting.com
Fork Art
Pretty artwork you can frame or make into a set of notecards she can send to her friends to show off.  Make some fork dandelions with help from Crafty Morning.
Personalized Mugs
We love these personalized mugs that grandparents can use and admire everyday. Make a personalized mug with help from She Knows.
Crafty Oven Mitts
Another great gift for a baker, especially one that loves having helping hands in the kitchen. Craft these helping hands oven mitt with About Family Crafts
Make a Family Tree
Another fun way to celebrate is to use the FREE downloadable Family History project available here. This download includes both a family tree and a list of questions for children to ask grandparents.

"Children love knowing that they're part of something bigger than themselves. Family history projects also help children to understand that they are in fact characters in a larger story that began before they were even born," says Kiddie Academy's Vice President of Education Richard Peterson. "Hearing about how grandma lived in a very different type of house, or how grandpa also had a pet dog can create connections through the generations that are both powerful and heartwarming."
Watercolor Art
Something all the family can enjoy making. Older kids can write messages and let younger ones watercolor over them. Use a hot crayon to make the "mystery message." Then grab the watercolors.
Fingerprint Art
What could be sweeter than a thumbprint family tree. We love this family tree idea from Lil Sugar.
Handprint of the Month
What a great personalized calendar this would make! 
Thoughtful Alternatives to homemade Gifts
That's okay too, we've got you covered.
Order a healthy and delicious fresh fruit arrangement from Edible Arrangements.
Satisfy their sweet tooth with chocolate dipped fruit and enjoy same day service and free delivery and other September savings!
How will you celebrate Grandparents Day this year? Do you do handmade gifts for grandparents or just buy something?
More Ways to Stay Connected to Grandparents
Pin it!
Use Pinterest to save your favorite ideas. Be sure to follow  Momtrends here.