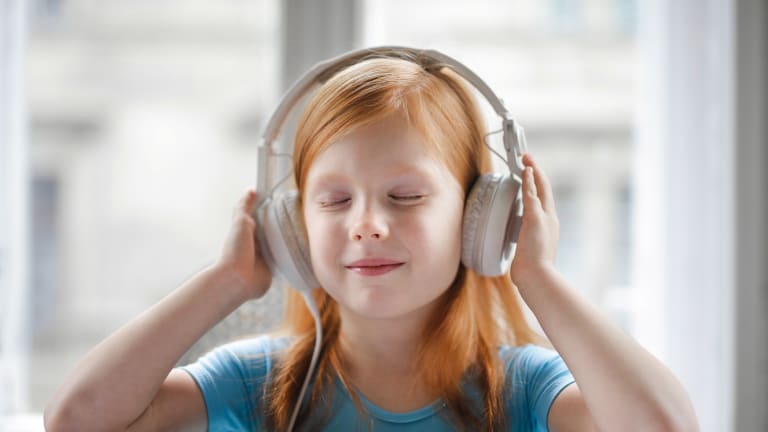 Getting Your Family Started with Audible
Stories.audible.com is FREE and allows kids to stream an incredible collection of stories that will help them continue dreaming, learning, and just being kids.
We've long believed in the power of audio books to make parenting life smoother AND to instill a love of books. We love Audible from Amazon as our audio book resource. Now during the COVID health crises, Amazon is making it easier than ever to get your family started with Audible. 
Related: Audio books for middle grade readers
Why We Love Audible Audio Books
Road-trippers know it is essential to have the right entertainment on hand to make car travel easier on preschoolers. They don't zone out on devices to make time pass. 
Now that we are all spending MUCH more time at home, Amazon came up with a free listening experience for children who are isolated and away from school and friends during these troubled times called stories.audible.com. 
To get this free access, simply click on the link above and start enjoying the books. Amazon says the program will last as long as schools are closed.
Right now, kids everywhere can instantly stream an incredible collection of stories, including titles across six different languages, that will help them continue dreaming, learning, and just being kids. All stories are free to stream on your desktop, laptop, phone or tablet.
Get the FREE version of stories.audible.com/start-listen here
Getting Started with Audible
If you want more books, you can sign on for the paid Audible program. When you sign up, you get 30 days for free. After your Audible 30-day trial expires, it costs $14.95 per month, but you can cancel your subscription at anytime. For your monthly subscription fee, you get one credit a month that you can use to buy and keep any audio book.
Note: You can buy additional books each month (you will pay extra per book).
There are three ways to access Audible books and make your selections:
Access Audible from your Amazon Prime account
Access Audible from regular Amazon (or the app)A
Access from the Audible app.
When it comes to what to listen to, you can't go wrong with Harry Potter. The full collection is on the paid version of Audible. Thanks to Audible's partnership with J. K. Rowling and thanks to her thoughtful Harry Potter At Home offering, the FREE portion of Audible now includes Britain's "national treasure," Stephen Fry's brilliant performance of the first Harry Potter title: Harry Potter and the Philosopher's Stone (though I will attest, we are die-hard fan's of Jim Dale's version). 
Currently Listening 
My girls are 14 and 12 and we just finished Jenny's Han's series. She wrote the books that turned into popular Netflix series. We've also been listening to the new Audible Original version of Little Women read by Laura Dern and a full cast. 
Audio Book picks for young readers
One of our family favorites is The Gruffalo and Friends. This is an audio book that includes six stories read aloud by wonderful actors. Our favorite on the CD is Squash and a Squeeze. The narrators simply make the stories come alive--perfect for when the family gets stuck in traffic on I-95. 
MORE MOMTRENDS BOOK RECOMMENDATIONS
For teens: Born a Crime 
PIN IT!
Use pinterest to save your favorite books. be sure to follow our what to read board.