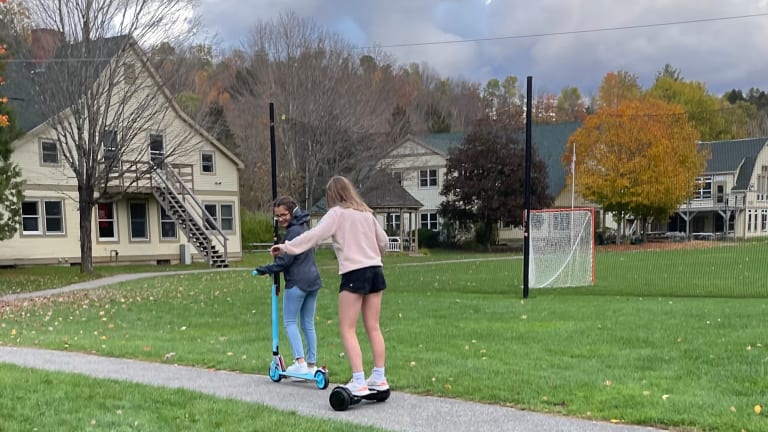 Get Out and Play with a Smarter Set of Wheels
Hoverboard.com introduces new hoverboards and scooters to make commuting a lot more fun.
Our family has been through many wheels over the years. Since we are mostly an urban family, our kids found scootering the best way to get to school. My kids got bigger, so I've been researching options for them. Now it's time for an upgrade to our wheels and we've got some awesome new products to share from Hoverboard.com
The thing about scooters and hoverboards is that they are a conduit to the outdoors. We all know kids need more unstructured play. If you want to get your kids off the gaming console, you've got to provide an enticing alternative. Hoverboards and scooters continue to be hot gifts. They build balance skills while offering a great way to move. Check out some of our favorite picks for awesome scooters and hoverboards along with tips to make the ride safer and smoother.
Our Favorite Hoverboards
Let's start with hoverboards -- they have never been cooler. Not only has the ride improved, but so has the overall experience. I pick GoTrax because they offer a smoother, safer roll with some awesome new features. Battery life is now HOURS not minutes (the GoTrax hoverboards can go miles on a charge). Yep, it's time to upgrade to a smarter hoverboard. 
If you've never tried it, you're missing out. It's a snap to master the hoverboard motion and it's a smooth ride that'll make outdoor play more fun. A hoverboard can cover miles a lot faster than being on foot and kids love the way it corners and handles.
The GoTrax hoverboards I tested were incredible -- they can reach a maximum speed of 6.2 mph--enough to be super fun and breezy without going way too fast. And get this...the latest models also feature bluetooth speakers.
Getting Going on Your Hoverboard
Setting up the GoTrax hoverboard was a snap. It comes already assembled in the box. After I unpackaged the hoverboard, I plugged it in to charge overnight. Once fully charged, we found a smooth flat area to play. To start, simply press the power button and carefully step on. Once on, gently push down with your toes. You'll adjust your body posture as you balance. Riders get the hang of it pretty quickly, but you'll want to start in a smooth, flat surface. And definitely have a helmet handy. For our photo shoot, I let the girls skip the helmets. But safety comes first when there is traffic involved.
Maneuvering is all the fun. Steering happens with weight and foot adjustments. It's all about careful shifting. To stop, you return to a neutral or upright position. It's a great balance workout!
To dismount, stop the motion and step off to the back of the To start, simply press the power button nan. Then simply press the power button twice. Charge time runs about 4 hours. 
Picking the right Hoverboards
GoTrax makes two models to consider. Both offer the smooth ride, bluetooth and 400 Watt motor.
Nova Pro: Can go 5 miles per charge. Chrome coated exterior. Best feature: infinity wheels--lighted wheels with effects!
Glide Chrome: Can go 3.1 miles per charge. Chrome coated exterior. 
Hoverboard Tips
Once you are ready to go out on a hoverboard adventure, we've got some practical tips.
Wear a helmet. For our purposes, we were on school sidewalks away from traffic and at low speeds. As you are learning and exploring, it's really important to protect your noggin.
Make sure your hoverboard has a full battery. We charge ours by the front door, when they come in, we automatically recharge. 
Keep the wheels clean. Wipe down the hoverboard after use.
Follow road laws. We find that untrafficked sidewalks and promenades are the best place to play.
Don't ride on rainy days. The hoverboard may slide and cause injury.
Vibe Scooter
If you want a set of wheels that's more suited toward getting you places, try the Vibe Scooter. Many folks have given up on long commutes. I think this trend is awesome. By living where we work and play, we're all living a more eco-friendly lifestyle and cutting down on stress. The Vibe Scooter is an awesome way to ditch the car as you take on errands and your commute to school or work.
For older kids (13 and up) and adults, this is an incredible way to get where you want to go in style. This scooter can hit 12mph, so it's really important to be mindful as you have fun. 
Set up is a snap: the Vibe comes mostly put together. After I snapped in one part, I set it up to charge overnight. When it was time to test, my daughter and I took turns scooting. It is very intuitive and smooth.
One feature we adore is the cruise control. To activate, press the throttle down for 10 seconds. Your speed is then set! To deactivate, press either the throttle or the brake.
You'll get about 7 miles of scooting out of one charge. It stores in a compact size that fits in a closet or corner. It would be a great item for a college student too.
What else? I love the headlight for safety (especially for commuting at dusk or later and the cheerful blue color. The only problem is deciding which of us gets to use it. I imagine soon we will have a fleet of these! 
Scooter Safety Tips
Wear a helmet. For our purposes, we were on school sidewalks away from traffic and at low speeds. With a commute, you'll be sharing your lane with bikes and other wheeled transportation. Be smart!
Equipment check. Always scan your scooter before you take off. Check those tires too!
Follow road laws. 
Don't ride on rainy days. The hoverboard may slide and cause injury.
Maximum weight is 176lbs.
For the best selection of scooters of hoverboards go to hoverboard.com.
Now comes the hard part...picking which of these new wheels is the right one for you or your teen!
This is a sponsored post.