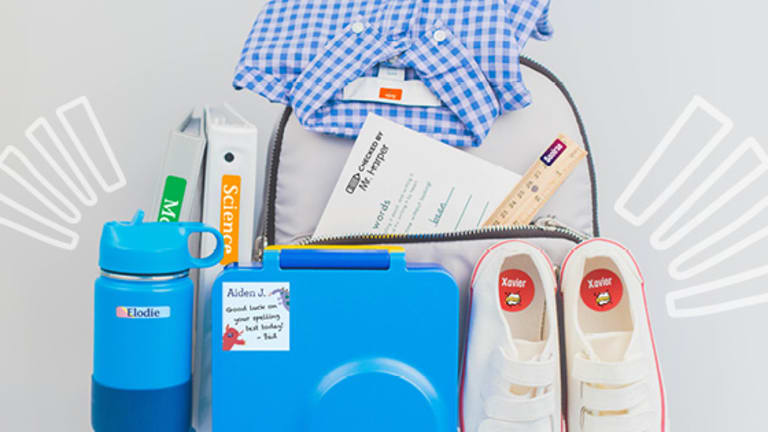 Publish date:
Get Organized with Mabel's Labels
Start the year off right with this easy way to organize your child's school supplies.
Start the year off right with this easy way to organize your child's school supplies.
We are excited to kick-off the school year with the goal to be organized. To help us out we have been using Mabel's Labels and their collection of labels that can label your clothes, bags, and even household items.
Related: Back to school organization tip
Ultimate Back to School Labels
This bundle includes 126 labels to help your kiddos start the school year off right. Now more than ever we don't need kids mixing up their gear. You'll get:
40 Small Rectangle Labels 1-1/2" x 5/16"
70 Tag MatesTM Stick On Clothing Labels 13/16" x 3/8"
16 Shoe Labels (8 pair) 1.3" 
This classic best-seller includes all the durable, waterproof (and dishwasher safe!) labels needed to keep your kid's things out of the lost and found. All the clothing labels will stay on during the wash and laundry safe. The rectangle labels are ideal for backpacks, lunch containers, clothes, water bottles, pencil cases and so much more, these labels are a must-have on your back-to-school shopping list!
Get your Ultimate Back to School pack here.

Sleep hack to give moms a more restful night
Looking for a life hack to get better sleep? Here's my go-to sleep hack to give moms a more restful night: get better pillows. Thanks to perimenopause, my sleep has been interrupted and I was finding it hard to get back to sleep after my 3am wake-up. I lowered the temperature in ...read more
Our Best Brow Tips
If you've been on TikTok at all in the past couple of years, you know that full brows are where it's at. Sure, the 90s are back, but thankfully, the kids left that decade's overplucked brows trend good and buried. Now even if you don't have the naturally full brows you once did, ...read more
5 Pretty Ways To Organize Your Jewelry
I admit - I'm guilt. Despite my best efforts, my "jewelry drawer" has become a tangled mess of necklaces, bracelets and earrings. This cluttered collection not only makes it hard to see what I have, but difficult to untangle the pieces I do want to wear! This summer, I'm ...read more
More Organization from Mabel's
Some of our other favorites are for the home. Mabel's Labels offers durable, stylish and custom Household Organization Labels. This is great for storage containers where you can label everything from your cookies to your beans with ease. This is also great so that you know when food expires as well as to label seasonal spice jars. Household labels are also great to organize wires and garbage where everything is clearly labeled.
For the kids, we love to keep them organized with Bag Tags that are great for sports and travel and the Clothing Labels to keep their clothes organized from head-to-toe. We love their fun and bright prints that are also great for kids to organize their lunch boxes, water bottles, toys, backpacks and more. They also have the coolest preschool shoe labels that can help your little one understand their left from their right foot by matching the halves of familiar shapes.
Whether you are looking to have a better track of your belongings and having everything clearly labeled, Mabel's Labels are a great way to keep everyone in your family organized.
Ready to get organized? Click here to get free shipping on your order.
More Back to School Organization from Momtrends
PIN IT!
Use Pinterest to save your favorite recipes. Be sure to follow our Back to School board for more tips