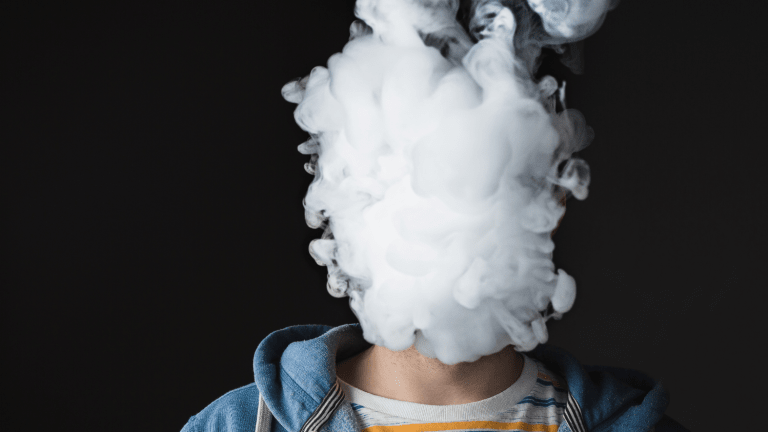 Get Facts and Help to Reverse the Vaping Epidemic
The youth vaping epidemic has become a bigger health threat during the COVID-19 pandemic, here's help for families.
Did you know that 20% of high school students report that they are vaping? Educating our teens about its danger critical, and it's more important than ever. With the added stress of COVID and remote school, more teens are leaning on vaping to cope. That's where the Truth Initiative comes in. It's an online anti-vaping program that is among the most requested health content curriculums from educators and available to parents everywhere. The goal is to help teens and parents get facts to reverse the vaping epidemic.
Related: Keeping teens busy with volunteer opportunities
Youth e-cigarette use remains at epidemic levels: 
Get ready for a dose of scary reality. Here are some vaping facts:
1 in 5 high school students (19.6%) reported using e-cigarettes
1 in 20 middle school students (4.7%) reported using e-cigarettes. 
Many vape every day or nearly daily, underscoring the highly addictive nature of nicotine, which is harmful to developing brains.
Empower Your Kids
Now that you know what you are up against, the good news is there is help. The Truth Initiative is a non-profit dedicated to achieving a culture where young people reject smoking, vaping and nicotine. Kaiser Permanente, in collaboration with American Heart Association, launched a national youth vaping prevention curriculum called Vaping: Know the truth to empower teens who vape to quit or better yet, to never start in the first place. Since many schools are on a remote schedule, this course is flexible. It is a 40-45 minute self-led interactive online course with peer-to-peer instruction designed for high school students and available to teachers of other grade levels.
Benefits of the Truth Initiative
This new program has been designed as a remote learning experience. The time is NOW to start. A new study shows that young people who have vaped are up to 5x more likely to test positive for COVID-19.  
Vaping: Know the truth directly links the only proven effective digital text message quit vaping program designed specifically for youth and young adults, called This Is Quitting. This free and anonymous program is already helping over 220,000 young people to quit vaping since launching in 2019. 
The course curriculum is comprised of four learning modules: 
Know: introduces students to the topic of vaping
Uncover: provides hard facts around marketing efforts from Big Tobacco
Overcome: explores the dangers of nicotine addiction
Change: delves into the benefits of living a vape-free life.
Knowledge is Power
Teens are savvy. When they realize they are being duped by large chemical companies they can make informed decisions about health. Students will learn how e-cigarette marketers intentionally target young consumers and how using these products can be detrimental to their health. Good luck and be sure to arm your family with facts.
MORE IDEAS ON PARENTING TEENS FROM MOMTRENDS
PIN IT!
Use Pinterest to save your favorite ideas from Momtrends. Be sure to follow our Parents of Teens & Tweens board here.
Momtrends was not paid for this post.