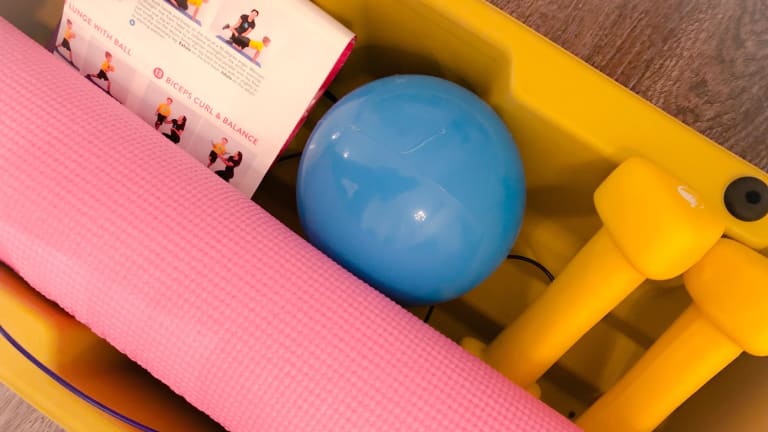 Fun Fitness Ideas for Kids
Could your kids use some more activity in their lives? Well, never fear. I have some fun fitness ideas for kids to share with you today. I'm of the firm belief that the best thing we can do for our kids is live by example. And that's why I try to fit in some form of activity daily to show my kids how important it is to take care of our bodies. Luckily I have a daughter who is already as fascinated by fitness as her mama. Not only does she take a few dance classes a week, but she also loves to golf with her daddy, bike, scoot and do anything else physical that she possibly can. Bwah! She's your classic case of a child who needs to "run it off" every single day!
Fun Fitness Ideas for Kids
Now as she gets older and more focused on her performance in those chosen sports and activities I know that a strong foundation in fitness will serve her well. So, while I continue to foster her love of any and all activity, I'm always looking for new ways that will help her harness all that extra energy she forever seems to have. Well, thanks to the My First Workout kit, she can now get a little workout in right from the comfort of our home whenever the mood strikes...And the mood strikes often! Considering she's been trying to lift her my weights for years, it's about time she had some gear all her own. Haha!

Now what comes in the My First Workout kit you ask? It comes complete with a yoga mat, free weights, a jump rope, a medicine ball and even some little workouts that your kids can follow. And the best part is that everything is size appropriate! You select the kit that coordinates with your child's age. How cool is that? This workout kit really is the perfect complement to my kiddo's other activities. She just loves feeling strong and I love how empowered she looks when she's working on her fitness! And the fitness fun doesn't end there...
Some other fun fitness ideas for kids that I use include biking or taking a brisk walk together as a family. My kiddos love using a fitness app to track our progress when we go for walks in our neighborhood. They'll turn anything into a competition. Bwah! I've also found that making a scavenger hunt out of our bike rides is another fun way to inspire them to want to stay outside in the fresh air even longer! I whip up a little list of things to look for our our ride and whoever checks all their boxes first gets a little prize. If they weren't already excited to be active, they would be after our "games"! And the My First Workout Kit doesn't hurt either. Just sayin'. Next up, we're going to try some sunrise yoga! Are you inspired yet? I knew you would be!
We were not paid for this post. We did receive a sample.