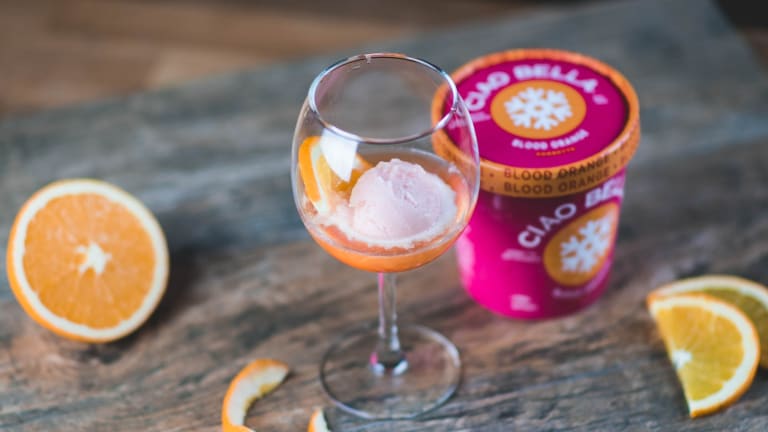 Frosty Ciao Bella cocktails for the summer
Adding sorbet to a drink recipe is a cool and inventive way to rethink the summer cocktail.
With a few fleeting days left of ice cream month (aka July) we are devoting this post to Ciao Bella. Can't decide between dessert and drinks? Ciao Bella's got you covered! This summer I'll be whipping up sorbet cocktails. Adding sorbet to a drink recipe is a cool and inventive way to rethink the summer cocktail. And lucky readers, I'm giving you a two frosty Ciao Bella cocktails for summer.
Related: 3-ways-to-rosé all day
This summer Ciao Bella cocktails are going to be a big trend. We're working on recipes made using the brand's most deliciously unique flavors, including Prickly Pear Sorbet Bellinis, Ginger Peach Margaritas and Wild Blueberry Lemon Drop Martinis! Here are a few more tasty summer treats to try this summer.
Blood Orange Martini 
For the perfect party (makes 8 servings)
Ingredients:
3-4 scoops of Blood Orange sorbet (1 scoop equals 2-oz.)
4-oz. Campari liquor
16-0z. Vodka
Directions: Shake well and serve in a frozen martini glass.
Skinny Ginger Peach Margarita
Ingredients:
1 pint Ciao Bella Peach Ginger Sorbet
1 pint Ciao Bella Lemon Zest Sorbet
1 cup lime juice
2 cups tequila
½ cup Cointreau
Ice cubes
Directions: Put all the above ingredients in a blender and pulse until smooth. Pour into a sugar-dipped margarita glass.
Sorbet Drinks are Awesome
Want to feel good about drinking your dessert? Here's the scoop: Sorbets are increasingly popular with frozen dessert lovers, and Ciao Bella's are the best around for health-conscious consumers. Seven of their sorbets, including Blood Orange, Prickly Pear and Wild Blueberry - are considered a good or excellent source of Vitamin C, while averaging less than 100 calories per serving.
MORE WINE LOVERS FUN FOR MOMS
PIN IT!
Use Pinterest to save your favorite cocktail ideas. Be sure to follow our Wine Time board here.