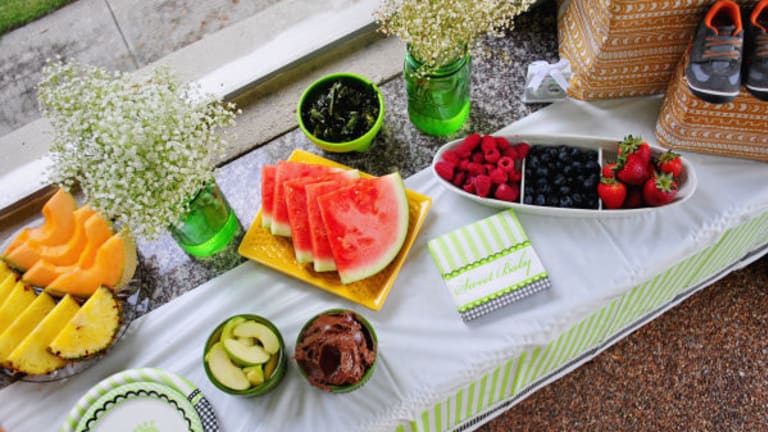 Freshly Picked Baby Shower
This fresh picked baby shower is the perfect party theme for moms how love the outdoors and fresh food.
Are you throwing a baby shower for a sweet mama to be or looking to give a gift that will be appreciated and helpful? Join Momtrends for this Fresh Picked Farmers Market Baby Shower Bash! 
Related: Baby shower mocktail
For the mama-to-be who prefers to spend her Saturdays strolling through town shopping for fresh flowers and loves ripe fruit and fresh air, this Fresh Picked baby shower will surely spark her interest.
Farmer's Market Baby Shower
It can be overwhelming to throw a themed party for a friend or family member. These moments are the ones that are photographed and remembered forever. To surprise an expecting mama with a soiree that is unique and something that she will love, here are a few tips to wow her (and not overwhelm the party planner!).
Simple Color Theme
Create a color scheme and stick to your color palette. For a fun farmers market theme, I stuck to green and white with pops of color.  
Create a tasty yet timely menu
If your event is not catered, there are other ways to introduce fresh and delicious food at your event. Consider the time of day of your shower. Is this an after lunch get-together or a brunch? For a farmers market party, try holding the event outdoors in the late morning or early afternoon. Serve appetizers, fruits and vegetables, and plenty of beverages. 
Display fresh flowers to set the mood
Baby's breath are beautiful and underrated. Just because they typically cost less than other blooms doesn't make them any less fabulous. Sunflowers would also be a good flower to use for this theme.
Use what you have
You may have vintage crates or jars from an earlier event. These types of items are perfect for a funky farmers market!
Dress up your drinks
Boring water comes alive with this infused drink. For this event, I used strawberries and basil. You can also try this cucumber and basil infused water recipe for a refreshing twist!
Farmers Market Food Ideas
Need more food ideas to feed a crowd? Create this healthy appetizer in a hurry. These chili lime kale chips hit the spot. 
Chili Lime Kale Chips Recipe
Take about 20 cups of bite size pieces of kale and massage with 1/4 cup of olive oil. 
Season with a teaspoon of kosher salt, finely grated zest of two limes, and chili powder. 
Spread the kale out on two large baking pans and put in the oven at 350 degrees for about ten minutes. Cool and enjoy!
Other food ideas for the party can include savory appetizers and sweet dips. Chocolate pairs well with fruit, and you can try Nutella or this Jif Whips chocolate-peanut butter spread.
Look for seasonal fruit to double as snacks and drink garnishes. Think strawberries, blueberries, raspberries, and apples. 
Serve fruit in a way that is easy to enjoy. Wash and clean all fruit and slice and dice.
More Momtrends Features for Moms-to-Be
PIN IT!
Be sure to save your favorite gear for baby on Pinterest. Please follow our Gear for Baby and Kid board here.