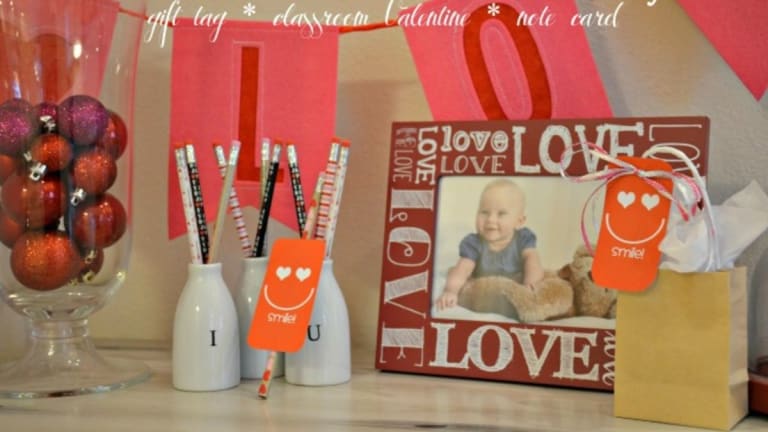 FREE Valentine's Day Card Printables
Don't stress because you are not prepared for Valentine's Day and classroom cards, we've got you covered with two fun options!
It's midnight the night before Valentine's Day and you're scrambling to find the right valentine for the class exchange. Don't stress because we've got you covered! Download and print these two cute printable Valentine cards guaranteed to make the whole class SMILE!
Download the SMILE printable Valentine's Day card here.
How to Use Valentine's Day Printables
Using printables is super easy. 
imply click the link to get to the host site
Download your printable 
Once the cute artwork is on your desktop, load some some nice solid card stock into your printer 
Select print.
FREE Valentine's Day SMILE Printable
Who can resist a happy face like this? Even a surly teen would appreciate a bag of sweets and a card from mom on this paper.
Here are a few ideas on how to use this SMILE printable. We pasted it onto a popsicle stick to make a little character and also punched a hole in it to make it a gift tag. 
This cute little printable is great for giving to teachers or as the classroom Valentine. It's gender neutral and really will be adored by everyone. 
Tic Tac Toe Printable
Here's another playful option for Valentine's Day. This one works for classroom Valentines or simply as a fun winter activity at home. The Tic Tac Toe game is a classic and again, can't be pigeonholed as a boy or girl card. 
Get the printable download here.
Again, you'll want a nice heavy card stock when you are printing these. To turn it into a treat, you can attach a bag with candies, or attach some colored pencils or gel pens to the Valentine.
Thank goodness for printables. They really are a busy mama's best friend. With a good printer and a stash of heavy card stock on hand, you can get through just about any holiday without a trip to the card store. 
Let me know if you print and personalize these little love notes.
MORE WAYS TO MAKE IT A HAPPY VALENTINE'S DAY!
PIN IT!
Be sure to follow our Valentine's Day board and pin your favorite ideas.