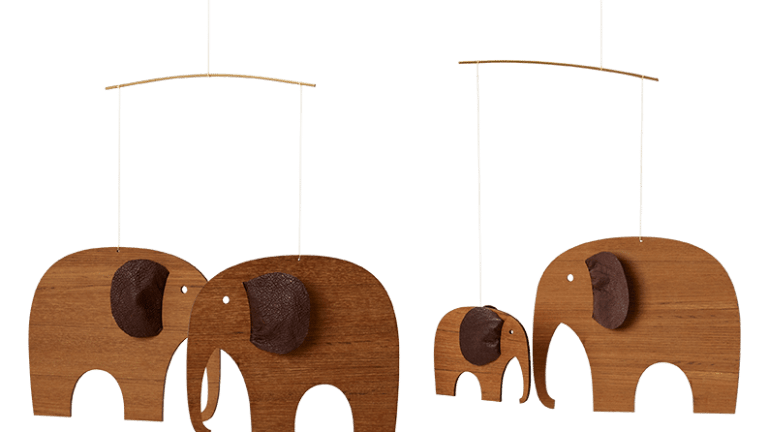 Flensted Mobiles--Better than Bunnies
Why not put something more unusual in the nursery to spark your child's imagination?
I think these Flensted Mobiles are better than bunnies, don't you? 
In Denmark mobiles are a traditional craft. Artist Ole Flensted and his wife Aase are partly responsible for the modern mobile design. And I can't thank them enough. It's not that I have something against rotating bunnies and bears, but why not put something more unusual in the nursery to spark your child's imagination?
Flower Power for Your Home
This new design shouldn't go over a crib, but I think it's a beautiful addition to a babies room. Now you have the possibility of having a flying bouquet of flowers in your home instead of one standing on a table. The hangers can be adjusted according to how much the flowers weigh, but they recommend lightweight flowers.
Most of the Flensted mobiles are meant for adults, but there are fantastic offerings for kids. Standouts from the new "Click-A-Mobile" line include the butterflies and the aeromobile (planes) each. With this preassembled line parents need only click the elements together and hang from the string--a snap. In addition to the new mobiles, perennial favs can be found in the classic line, including the Penguin Talk and Sheep Mobile.
A cooler animal mobile
Elephants are a staple in the world of nursery design. "The Elephant Party" designed 1976 by Ole Flensted is a timeless take on this trend. In 2019 the designer created a deluxe version, from laser cut in teak wood.
Textile designer Michala Stigkjaer transformed the classic elephant icon into a pattern in high class textiles and is manufacturing the highest lux bed linen you can imagine. 
I'm totally smitten with these Danish designs. They are completely unexpected for a baby's nursery.
More Design Ideas from Momtrends
Pin it!
Use pinterest to save your favorite home design ideas. Be sure to follow our Cool Kids Rooms Board here.
This Flensted Mobiles--Better than Bunnies feature is not sponsored.