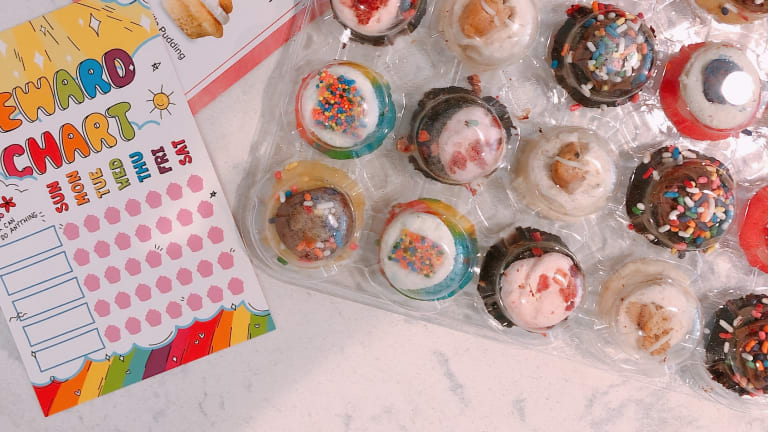 Five Ways to Put a Positive Spin on Back to School
I've found some relatively simple things that are helping me think optimistically about the new year of school.
Stick with me friends, it might not always be easy, but I believe in the power of positivity. Just this week, I witnessed two rainbows and got my teenager to go on two runs with me. Two things that were relatively simple but that gave me great joy. Which got me thinking about our upcoming school year, I dreamed up five ways to put a positive spin on the back to school season.
Related: Be prepared for back to school with the right first aid kit
Five Ways to Put a Positive Spin on Back to School

Small sweets: We all deserve to start the year on a sweet note with the Baked by Melissa's Back to School collection. These yummy little bite-sized cupcakes will bring a smile to grown-ups and kids alike. Why not plan a mini back to school party? Order up some Back to School cupcake packs and look for the silver lining of getting more time together. Each pack comes with a complimentary Reward Chart that both parents and kids will love. Even chores can be sweet when a Baked by Melissa cupcake is the treat!
Candles with a message.  While I am washing dishes, I have a little trick to lighten my mood. I light a scented candle, and let the scent take over. Now that I am overseeing home school, I light a candle for inspiration when I am working on lessons and schedules. I love The Spa Girl Life candles. Each candle comes with a mantra, two crystals one for each hand. My advice is to share one with your student at home to help them focus. Head here to get your candle.


Little Notes: Are you a collector of quotes? I'm a believer in the power of words. You'll love these Mabel's Labels lunch box labels that will completely disappear each night! Washaway Lunch Box Notes are a personalized peel-and-stick label you can adhere to the outside of your kid's lunch container every morning so you can write them a daily message. If you need quote inspiration head here. Once you're done with it, the label will disintegrate quickly in water, whether you wash the lunch box by hand or in the dishwasher – no soaking or scrubbing required. If you are at a loss for words, try this mini notes sets I found on Amazon.
3 Minute Meditation: In a 2018 study showcasing the morning routines of over 300 successful people, it was shown that one of the most important pieces of their days is an adaptable morning routine. Guided morning meditation can promote creative thinking and sharpen your focus, isn't that what we all want for the beginning of a school day. I use the Headspace app and often wrangle a kid to join me for a 5-10 minute meditation, but don't feel like you have to make that large of a commitment. Even a minute each day can help set the tone.

Chalk Art: My final idea is to make something. Get the kids involved in a project to spread positivity in your neighborhood. Get inspired by this mother/daughter duo who makes amazing designs in chalk.
I hope one of these ideas resonates with you and helps you lighten up the mood at home. Hang in there mamas!
MORE BACK TO SCHOOL ORGANIZATION FROM MOMTRENDS
PIN IT!
Use Pinterest to save your favorite recipes. Be sure to follow our Back to School board for more tips
Momtrends was not paid for this post.