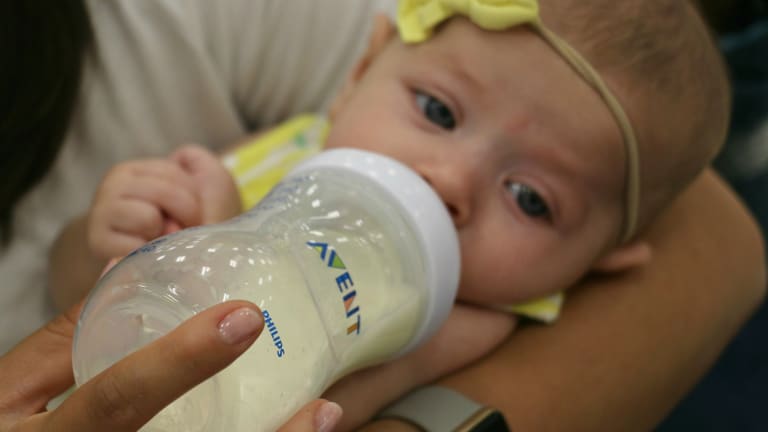 Finding the Best Bottle for Your Baby
Finding the best bottle for your baby can be tough. I'm used to challenges though. The road to my babies coming into this world wasn't always easy. We really went through the ringer with our second wee one, but I think the struggle made the moment that sweet little soul joined our family all the sweeter. She's been such a breath of fresh air since day one. Sure, we have our tough days, but they're nothing compared to the joy she brings us. That being said, there are definitely some tips and tricks that make this whole parenting thing a bit easier.
One thing I learned the first time around was that having the right gear on hand is vital. Being that I exclusively pump, I needed to find a bottle that she was completely comfortable with. A happy baby makes for a happy mama after all. And that's why I was thrilled to find the Philips Avent Natural bottle.
The Best Bottle
Finding a bottle with a nipple that was as close to the breast as possible was very important to me, and, luckily, that's something Philips Avent excels at. For over thirty years, Philips Avent has made listening to moms a top priority and it shows. It's been a trusted brand that I've turned to as a mother, so I knew I would love this bottle as much as I do their other products! The Philips Avent Natural bottle has quickly become an integral part of my must-have mommy gear! The new ultra soft nipple is just what mommy and baby ordered. It's breast-shaped and has a flexible spiral design, along with comfort petals that allow for a more natural latch. Plus, it's compatible with a wide range of nipple flow rates, so you can find one that's perfect for your baby's stage of development. And you don't have to worry about tummy troubles either because the Airflex vent technology was designed to reduce colic and discomfort! The last thing I want is a kiddo with an upset stomach!

If the Philips Avent Natural bottle isn't the right bottle for your baby like it was for mine, never fear, because there is also the new Philips Avent Anti-colic bottle with AirFree vent! This handy dandy bottle was designed so that your baby swallows less air by keeping the nipple full of milk during feeding. And you know what that means...less chance of colic, reflux and gas! I remember seeing my friend, whose baby had colic, suffer right along with her little one and it was awful for both of them. I'm sure any new mom would be thrilled to test out a bottle that could cut down on nighttime fussing! Just sayin'.
No matter which bottle you end up going with, finding the best bottle for your baby is all about paying attention to your family's needs. And, thanks to Philips Avent, that search just got a whole lot easier!
Compensation was provided by Philips Avent. The opinions expressed herein are those of the author and are not indicative of the opinions of Philips Avent.