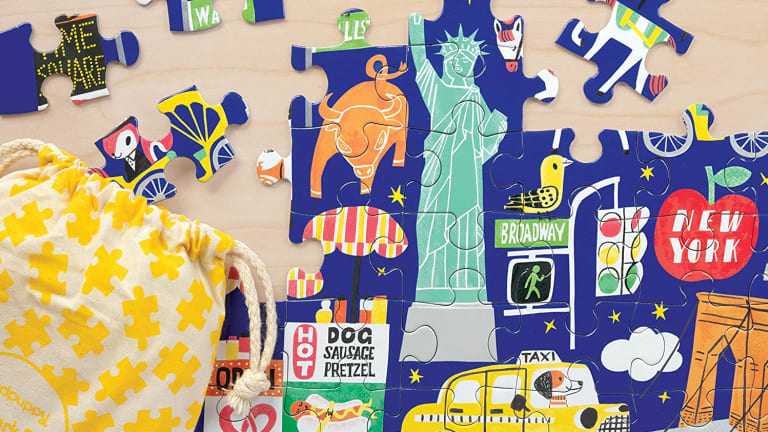 Favorite Puzzles to Keep Kids Busy on Summer Break
Travel-friendly toys and rainy day ideas from MudPuppy to keep kids to happy this summer.
We're always on the hunt for great unplugged ideas to keep the kids entertained during the summer months. One project our family loves to tackle each summer is the classic puzzle. We have a few stashed for rainy days and a few dedicated for our annual beach trip to the Outer Banks in North Carolina. We're teaming up with MudPuppy to bring you our favorite puzzles to keep kids busy on summer break AND a fun giveaway.
Related: Checking in to the TWA hotel at JFK airport
Vacation Puzzles and Toys
If you're a parent gearing up for a family vacation, you know it's essential to pack an abundance of travel-friendly toys and games for kids to stay occupied. Puzzles are our go-to picks for days that are rainy or just too hot to play outside. And we have a tradition of doing large format puzzles with the cousins when we are at the beach. I can't imagine a summer without puzzles!
Favorite MudPuppy Puzzles
From a classic road trip to flying on a plane, MudPuppy's products will come to the rescue! Sold on Amazon (along with other retail partners), these engaging, non-digital activities - from puzzles to board games - will promote creative play for endless hours of fun. I've put together some travel-themed puzzles for every age to get you inspired this summer.  (Note: all the links contain Amazon Affiliate links).
NYC 36 Piece puzzle in a bag: If your family loves NYC, try this 36-piece New York City jigsaw puzzle. For children ages 3 and up, this is a smallish puzzle (12" x 9"), so you don't need much space to work on it. Perfect for an airplane tray! Kids will love the fun colorful artwork of the puzzle featuring some well-known Big Apple icons such as the Statue of Liberty, Empire State Building, yellow taxi, Broadway, Times Square, a Central Park horse-drawn carriage and more!
Mini City 48 Piece Puzzle: This small puzzle is for ages 4 and up and features a colorful Illustration of iconic London landmarks. It's easy to pack, as the completed puzzle is 8" x 5.75"
Arctic Life 300 Piece Shaped Scene Puzzle: I adore this Walrus shaped puzzle. For ages 7+ this puzzle is ideal for kids who love the ocean and sea life.
Little Park Ranger 500 piece family puzzle: For families who love camping and the outdoors, this puzzles is perfect. For ages 8 years and older, this jigsaw puzzle from Mudpuppy is comprised of beautifully illustrated portraits of the U.S. National Parks including the Great Smoky Mountains, Big Bend, Glacier Bay and more, and will provide families hours of fun, quality entertainment.
United States 1000 Piece Jigsaw Puzzle. Have you been to all 50 states? This is the perfect puzzle for families who love a good road trip and exploring the USA. This large puzzle has a LOT of pieces and is ideal for teens and tweens.

Win it!
We're teaming up with MudPuppy for an awesome puzzle giveaway. We've got $200 worth of MudPuppy puzzles and games to share.
Mudpuppy was launched in 1992 and relishes the creation of Non-digital and environmentally friendly puzzles, games, and toys that promote creative play. They believe in creating toys that help kids' unplug and spend less time in front of screens with modern designs that are fun and interesting.

Why We Love Puzzles
Here are some fun brain facts from the South Mountain Memory Care.
Benefits for kids: Puzzles improve your visual-spatial reasoning.
Benefits for families: Starting a jigsaw puzzle and keeping it on a table in your living room or kitchen is an invitation for the whole family to participate, whenever they have a few minutes to sit down and focus. It's a tactic that parents of teens can use for starting a conversation while working toward a shared goal.
Benefits for adults: Studies show that people who do jigsaw and crossword puzzles have longer life spans with less chances of developing Alzheimer's disease, memory loss or dementia.
More Travel From Momtrends
PIN IT!
Use Pinterest to start your bucket list travel ideas. Be sure to follow our Travel with Kids board here.