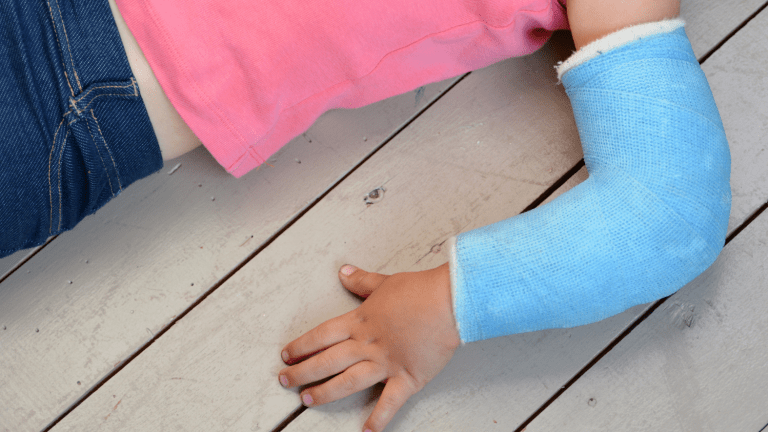 Fashionable and Fun Ways to Cover a Cast
Innovative designs and ideas for turning wearing a cast into a colorful opportunity for your child.
Wearing a cast isn't fun - especially for a kid but there are ways to make an injury less tiresome. But there are some ways to make having a broken bone more bearable. We've got some fashionable and fun ways to cover a cast, and let me say this, we've come a long way since black Sharpie marker signatures.
Related: Help your kid get rested on a sick day
Opt for a Colored Cast
Most doctors who apply fiberglass casts carry a variety of colored materials for the final layer.  I went online and quite a few orthopedic offices have a listing of cast colors online. The fiberglass or plaster forms a hard, outer shell. This will protect and stabilize the bone while it heals. At this stage, the cast will be white.
One thing I found interesting: I notices that the waterproof liners for your cast are optional, and insurance companies do not pay for the extra charge.
Get a Cast Cover
Fun cast covers, are changing the way kids look at broken bones. You can find covers on Etsy, and we also like the brand Cast CoverZ.  They have discovered a way to make healing fun with their fashionable and functional casts for arms, legs, and even fingers.
Created by Annette d. Giacomazzi, a mom whose then 10-year-old daughter broke her humerus (large bone in the upper arm), who then made a cover and sling and accidentally created CastCoverZ. 
Their mission to create "fun and functional products that comfort orthopedic patients" grew where they now offer their branded products.
They have BootGuardz!, Legz!, Gutterz!, Armz!, Cuffz! and much more. This also includes a connection to bright and vibrant prints and patterns featuring zebra prints, flowers, polka dots, tie-dye and more.
Not only about fashion, they are also functional work by keeping casts and orthopedic devices clean. The covers inhibit odor, prevent snagging and scratching, and are interchangeable (right or left arm/hand or leg/foot. They are made from latex and allergen-free and medical-grade quality. They also offer a custom fitting that can coordinate with a special outfit (weddings or prom, etc) - check out their Custom Coverz! page for more details.
A friend of Momtrends recently had an injury and their son tested out a Cast CoverZ cover during week three of his six weeks of wearing a cast. The parents weren't sure what their son would think of them - since he was no longer in pain and the frustration and the novelty of the cast were behind him. They remarked how much fun it was to watch their son "light up when he saw the Cast CoverZ package (even though he still didn't really know what it was!). The parents added, "He quickly figured out how to put it on, and went straight to the mirror to see how it looked. He was grinning from ear-to-ear, so smug and pleased with how exciting his 'new' cast was."
They added, "Aside from just giving him a little emotional boost (much more fun to have people fawn and say how cool his cast is then to have them look worried add ask how he hurt himself, poor thing), it also helped him sleep a bit better as the smooth fabric prevented the cast material from sticking to his blankets." They also remarked how it gave him a 'finished' appearance to his raggedy cast by providing a "nice clean, fresh look!" They added, "we've been imagining a future use for the Cast CoverZ... as an arm gator for skiing!"
An incredible cast cover system, Cast CoverZ is wonderful for kids who have to wear casts by appealing to their sense of fun with their innovative designs and functionality by helping them heal. 
Get an Art Kit

Shrinkins makes washable and removable decorating kits. The design is perforated for airflow and it's easy to disinfect and wipe clean. Shrinkins wrap around your cast. Applying Shrinkins to your orthopedic cast or mobility device is as easy as 1-2-3 — just wrap it, tape it, and shrink. With heat they shrink to fit perfectly. Get the kit on Amazon here.
More Solutions for Doctor Mom
PIN IT!
Use Pinterest to save your favorite parenting life hacks. Be sure to follow our Parenting board here.
Momtrends was not paid for this post.