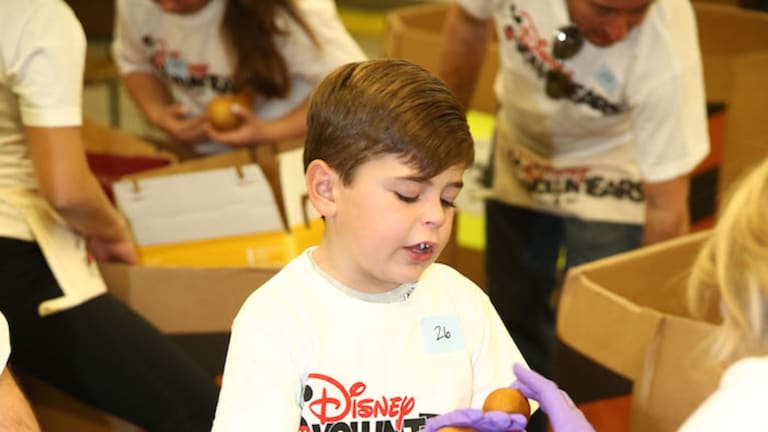 Family Volunteer Day
The family that volunteers together, bonds together.
'Tis the season to be thankful. As we gear up for one of the most indulgent holidays of the year, filled with abundant feasts and decadence, our family is also preparing for our own Family Volunteer Day. Thanksgiving is a special holiday, evoking a sense of gratitude in all (hard not to feel "thankful" on a holiday entitled such, lest you forget). 
My children are very familiar with "giving back" and have not only devoted one Sunday a month towards building the local food pantry, but have participated in local sock drives, as well as book drives. My daughter's girl scout troop teamed up with a local chapter of the Red Cross to get much needed personal care items to the volunteers working to help aid those hit by devastating hurricanes in Puerto Rico. The time they have spent volunteering has been life-altering. We have had so many conversations about giving one's time in addition to tangible gifts. We recognize how fortunate we are and know that others might not be. 
We headed to Generation On to help us decide on ways to come together as a family to volunteer our time towards those less fortunate. We decided to create personal care item bags to aid children in local shelters. My children were surprised to learn that young children living in temporary housing, may not have access to the most basic of personal care items, like toothpaste, toothbrushes and soap. We decided that we would put together several bags filled with the needed items to drop off to be distributed to young children in surrounding areas. The compassion, warmth and good-will over flowed from our littles and our bond strengthened as we worked together to shop, package and decorate bags to donate. 
Once again Disney and generationOn worked together to sponsor Family Volunteer Day. It's a global day of service created to encourage families to volunteer together in support of their neighborhoods and communities throughout the holiday season and every day during the year.
 Families can volunteer through local service projects in their own neighborhoods or find more than 100 DIY projects at the following website www.generationOn.org. 
How will you work with your family to give back this year?
We were not paid for this post. All opinions expressed are our own.