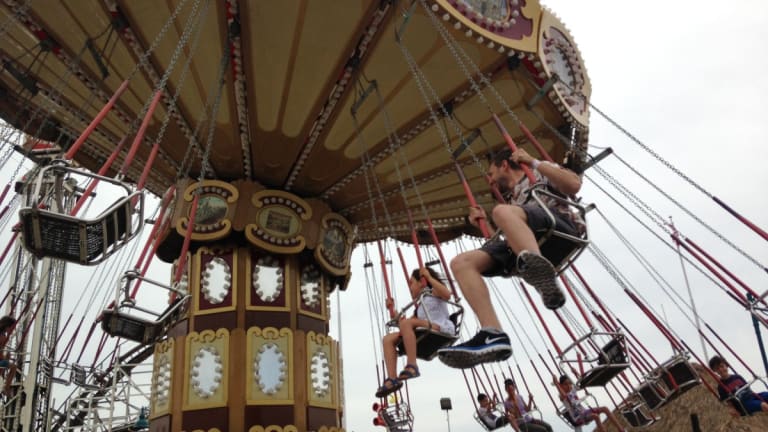 Family Summer Classic Outings in New York City
While we are talking about back-to-school and getting ready for September, it is still very much summer. In NYC we have been loving the weather and exploring with our kids, here are some of our favorite activities - all of which you can still enjoy now if you live in NYC or happen to be visiting.
Related: Cutest watermelon summer gear
METS Game: 
We recently enjoyed a classic NYC outing with a visit to CitiField to see the New York METS. This was a treat for all of us who have never been to a game together. My husband explained the basics of the game where we watched as the METS played the Giants. While they didn't win, we all enjoyed the experience of watching the players, eating tons of baseball fare and just doing something different. 
The day we saw the game was also on Family Sundays where prior to the game we went to Mets Plaza for some fun family-friendly activities including kids inflatables, face painters, balloon artists and entertainment. The kids also had the chance to meet Mr. and Mrs. Met as well as have the chance to run the bases after the game.
Gallow Green: 
NYC is full of so many interesting and unique experiences, and one of our favorites was the recent visit to the Garden and Potions party at The McKittrick Hotel. Starting off my "checking-in" my daughters and their bears (kids can also bring dolls), we were escorted to an elevator to the gorgeous Gallow Green, a meticulously-designed green space right the heart of Chelsea. We were all in awe of this scenic, and somewhat magical setting that was decorated in greenery and charming vintage decor. We loved how we were surrounded by nature as the kids had the chance to make their own potions, press flowers and a plant seeds. 
We also had the chance to enjoy a traditional English high tea platter, refreshing pink lemonade (for both the bears and dolls) and the cutest touches where the kids' bears and dolls had their own miniature seat and personalized bib. At the event of the experience, we received a seed to plant and some soil and a pot that they were so excited to plant after learning the tips and steps from the gardener on how to take care of their plants. They also loved the pressed flower experience where they girl at the event told them to make a wish and not to open their pressed flower books for two weeks. The girls have been talking about this experience for over two weeks as this magical and special event is one that none of us will ever forget. 
Dos Caminos Brunch: 
NYC is an incredible source of food. One of our favorites is Mexican where we recently enjoyed a delicious family-friendly meal at Dos Caminos. We went to their SoHo location (they also have locations on Park Avenue, Third Avenue and in the Meatpacking District) where we enjoyed a flavorful and unique brunch. We kicked-off our brunch with their signature guacamole that came with a trio of salsas and savory chips. 
As for brunch, the girls wanted rice and beans and I ordered the salmon and avocado benedict with poblano cornbread, chipotle hollandaise and eggs while my husband had the breakfast quesadilla complete with eggs and bacon that was wrapped in warm tortillas. While we were waiting for our food, I loved how they served the girls healthy sides like veggies with guacamole. It was also a nice way for us to enjoy a delicious meal as a family at a place that I would usually reserve for a date night.
Coney Island: 
There is so many fun things to do at Coney Island. During a recent trip there, we enjoyed a day of rides at Luna Park. I love how they have a kiddie park with over 17 rides that my girls can enjoy, and even some daredevil rides like the Tickler and the Circle Coaster. They also have tons of thrill rides, including the new Thunderbolt ride. 
Families can also enjoy so many other attractions at Coney, including Deno's Wonder Wheel, a day learning about sea animals at the New York Aquarium, a game at the the Brooklyn Cyclones, ConeyIsland's minor league baseball team, delicious food like the classic Nathan's or a simply a day at the beach. 
Circle Line: 
Another fun experience was a tour of NYC via the Circle Line. We went as a part of their kids' cruise line, a 75-minute experience that includes entertainment, balloons, a magician, and the best sights of NYC. The kids loved soaking in the sights as well as hearing the history of the city as we snapped pics by the Statue of Liberty. Another fun benefit is that they have themed experiences like the upcoming Halloween party in October!
MORE SUMMER FUN FOR MOMS
PIN IT!
Use Pinterest to save your favorite fashion posts. Be sure to follow our Summer fun board here.
Momtrends was not paid for this post. We were given some vouchers for review.
For even more Momtrends, follow us on Facebook, Twitter, Pinterest and Instagram