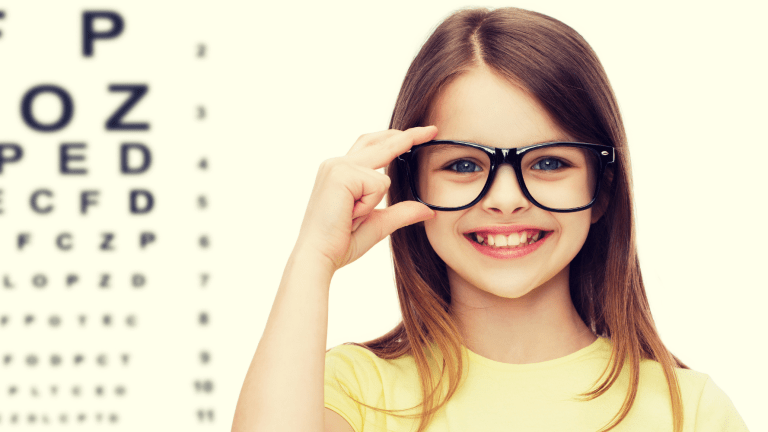 Publish date:
Eye-Heath Tips for Growing Kids
My seven year old son has worn glasses for the last few years. Initially, it was a big battle to get him to keep them on; there were tears and fights and meltdowns. But now it's just a part of his routine. In fact, he wants to wear them--they help him see movies better, learn smart-board lessons faster, and enjoy all the day-to-day sights and surroundings. 
Going to the optometrist and ophthalmologist is a regular part of his routine. But eye safety and health is important for all kids--even those who don't have a vision impairment.
Maintaining healthy vision requires basic eye safety practices. Eye injuries, often attributable to play and sports-related accidents, are the leading cause of vision loss in children. To help prevent vision impairment, basic rules of safety should be followed.
Wear protective eyewear while participating in sports or recreational activities, using chemicals or tools for school projects, or engaging in other physical activities.
Purchase age-appropriate toys and avoiding toys with sharp or protruding components.

5 Pretty Ways To Organize Your Jewelry
I admit - I'm guilt. Despite my best efforts, my "jewelry drawer" has become a tangled mess of necklaces, bracelets and earrings. This cluttered collection not only makes it hard to see what I have, but difficult to untangle the pieces I do want to wear! This summer, I'm ...read more
This Year's Coolest Jumbo Pool Floats
Pool season is almost here! I can't wait to relax, read a book, and sip a cocktail while lazily drifting in an oversized float. (Just kidding, I have two toddlers--but a swim mama can dream, right?). If you've got a staycation planned, check out this year's coolest jumbo pool ...read more
Crystal Clear and Pristine: Pool-Cleaning Tips
Tropical Storm Isaiah gave us quite the midsummer surprise here in the suburbs of New York City. We just got our power back on after a whole week of darkness! With trees down, debris everywhere, and lots of uncertainty, one thing we forgot to check on: our above ground Intex ...read more
Eat right – Encourage your child to eat a well-balanced diet loaded with different types of fruits and veggies, as well as fish.
Speak up – Ask your child if they've noticed any vision changes. Are they experiencing blurry vision, the need to squint, or any eye discomfort?
Wear your glasses – Help your child understand the importance of wearing their eyeglasses. If they are resistant, because they believe glasses are unattractive, try pointing out sports figures and other respected people who wear glasses.
Rest Your Eyes – Encourage your child to take a break from staring at "the screen," which will tire their eyes.
Help your children have a successful school year by scheduling a comprehensive eye exam and taking steps to make sure their eyes are free from injury.
Want more eye-health tips? Check out our top advice for wearing contact lenses. And while you're at it, make sure you're up to date on all your health needs--these are the five doctors appointments you should have scheduled.
This is not a sponsored post. Tips courtesy of Dr. Andrea Zimmerman, a low vision specialist at Lighthouse Guild