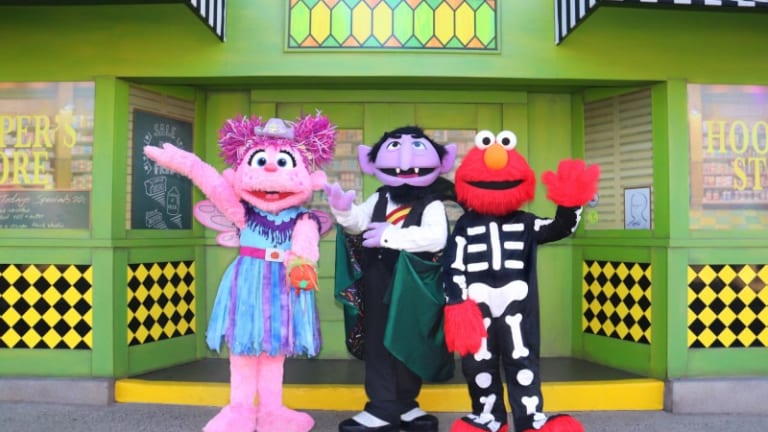 Enjoy Sesame Place This Fall
Enjoy not-too-spooky fun with your favorite Sesame Street friends this Halloween
I just love this time of year! The cool weather, changing of the trees and of course the Halloween season. I never was that into Halloween until I had kids. The excitement of dressing up for them is just so magical to watch. And as the years go on, I am finding there are so many Halloween activities you can do with your children leading up to that candy filled day.
Enjoy Sesame Place This Fall
It's time to celebrate not-too-spooky fun at The Count's Halloween Spooktacular beginning now through November 7!
This past weekend, my family and I took a trip to Sesame Place for their annual "The Counts Halloween Spooktacular" event. The theme park transforms into a "not so spooky" Halloween decked out fun place. Some of the activities include a character hayride, Halloween shows, trick or treat stations, and all of the characters are dressed up in Halloween costumes. The children are encouraged to come dressed up in their costumes, a highlight for my son who was super excited to put on his Power Ranger garb.
While the water park section is of course closed, there was still tons to do! We enjoyed the Halloween character parade that runs through the entire park, rides, arts and crafts (decorate your own pumpkin) and the jungle gyms. The kids had an absolute blast as did I. If you are looking for something to do this weekend, I suggest you head over to Sesame Place! It's only about an hour away from NYC. The Halloween Spooktacular runs until October 28th.
Not So Spooky Drive Thru
Guests can also experience Sesame Place in a completely different and exciting way on Wednesdays in October from 5:30PM - 7:30PM! Enjoy not-too-spooky fun with your favorite Sesame Street friends from the comfort of your vehicle!
For more information visit www.sesameplace.com
GPS address: 100 Sesame Rd, Langhorne, PA 19047
Momtrends was not compensated for this post but did receive tickets to the park for the purpose of this review.