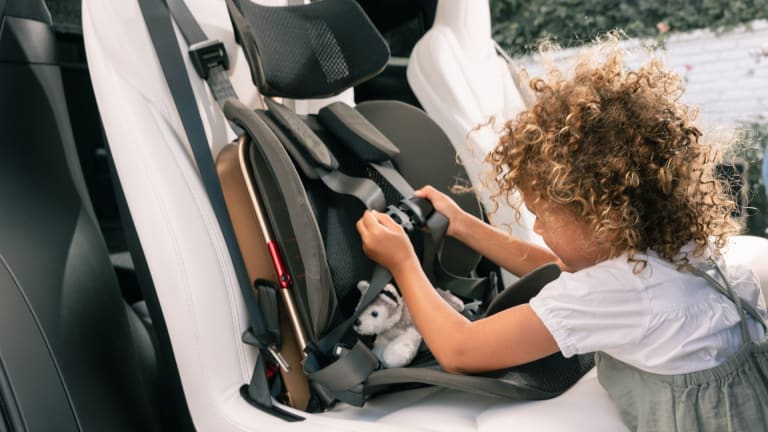 Momtrends MVP'S: The Best Car Seats for Babies and Toddlers
Whether you need car seats for babies or toddlers, our take on the best car seats of 2022.
Are you in the market for a car seat? If there is a baby on the way, a baby at home or your, not so much a baby anymore, will soon be a toddler, your answer is probably yes I DO need one! And that is because you won't find many pieces of safety gear more important than a car seat.
While there is some baby gear that isn't exactly necessary, a car seat is not one of them. Every child needs to be in one every single time they ride in a vehicle, period.
And that is why car seats are always top baby registry items because there is no gray area on whether you need one or not.
The only question is, how do you know which car seat is best for your family?
Which Car Seat Do I Need?
Well, your options are to start out with an infant car seat, perhaps even one that works as a travel system with your stroller, and then transition into a convertible car seat that will take your babies through their toddler years. OR you can forgo the portability aspect of an infant car seat and just start your baby in the convertible car seat right away.
I really liked being able to take my babies in and out of the car right in their car seats when they were small, so I will advocate for the use of infant car seats. It was definitely easier to get them in and out of their car seat when it wasn't in the car.
That being said, a convertible car seat can be used much longer, so if you want to minimize the amount of baby gear you buy, this might be the option for you. You can simply change it to the forward-facing position when your baby is old enough and weighs enough.
Of course, depending on your child's size you may need to swap that convertible car seat out for a 5-point harness seat with a higher height and weight range, but you will get a good two years out of it either way.
You can find some best practices for car seat installation over at the National Highway Traffic Safety Administration website, but I digress…
Whichever car seat sounds like a fit for you, we have plenty of great car seats for babies and toddlers to recommend to you in these top picks for the best car seats in 2022!
The Easiest to Install Infant Car Seat
Anyone who has ever tried to install a car seat knows it isn't exactly easy, especially for first-timers. How do you know you did it right? You could hire a car seat safety expert of course. But if you plan on figuring out the installation yourself, I am happy to report that Uppa Baby has tackled that issue with great success!
On their Uppa Baby Mesa Infant Car Seat infant car seat the LATCH connectors there is an indicator window that changes from red to green so you know the car seat's base has been installed correctly. Talk about peace of mind! And the LATCH system also has a retracting feature that tightens and reduces error there too.
What I wouldn't have green for a green light that told me yes you did it right when my kids were in car seats!
Get the Uppa Baby Mesa Infant Car Seat on Amazon here (note this is an Amazon Affiliate link)
The Best Infant Car Seat to Use with a Stroller
Now there are full-on travel systems that you can buy that include both an infant car seat and a stroller which we included in our stroller Momtrends MVP's, but for this one, I am only focused on car seats.
That doesn't mean I don't have an infant car seat suggestion that works with a stroller! In fact, the Bugaboo Turtle One by Nuna Car Seat with a five-point harness is compatible with ALL Bugaboo strollers!
I can't get over how super lightweight this infant car seat is. It weighs in at under ten pounds! I did not take the weight of the car seat into account with my last infant car seat and my arms and shoulders felt it!
And the large magnetic canopy is so great for those of us who live in warmer climates. But really, sun safety should be important to every parent no matter where you live! And the merino wool it's made out of helps with body temperature control!
Get the Bugaboo Turtle One by Nuna Car Seat with Base on Amazon here (note this is an Amazon Affiliate link)
The Best Baseless Infant Car Seat
Have you dropped your baby off at your parents' house and forgotten to leave the car seat base. I am guilty of that more times than I care to admit. I have a solution for that dilemma in my recommendation below, but a baseless infant car seat is a fabulous option too!
Typically an infant car seat connects with the LATCH system via connectors on the base. Well, the connectors are directly on the car seat on the Clek Liingo.
The baseless feature alone makes the Clek Liingo a winner for me, but I also love that it also has extra head support for newborns and has a 3-position sun canopy! You know how much I appreciate a functioning sun canopy!
Get the Clek Liingo Infant Car Seat 2020 with Free Shipping from Magic Beans (note this is an affiliate link).
The Best Infant Car Seat for Grandparents or Second Car
My mom watched my kids so much, we found it helpful for her to have her own car seats. We didn't necessarily want to spend as much as we did on the seats for our cars, however. If you're in the same boat, a budget-friendly option like the Graco SnugRide SnugLock 35 Infant Car Seat.
It comes with the kinds of features you want in an infant car seat like it's lightweight, has LATCH or car seat installation, a five-point harness, energy absorbing foam, it's side impact tested etc., all for a great price.
I love that you can feel confident that your baby is just as safe in your parents' car, your second car, your child care provider's car or wherever else you use the Snugride!
Get the Graco SnugRide SnugLock 35 Infant Car Seat here.
The Best Infant to Child Car Seat
We're used to hearing about infant to toddler car seats, but what about infant to child. The Maxi Cosi Priz Maz All-In-One Convertible Car Seat can be used from infancy up to ten years of age. Yes, you read that right!
Kids can ride rear-facing, forward-facing, AND in a booster mode. That means you can use this for all the years your child needs to be in a car seat!
Apart from how amazing it is that the Pria Max is made to last ten years, I also can't get over the one-handed magnetic chest clip. Anyone who has struggled to get their child buckled in quickly in their school pickup line knows how clutch this is!
Did I mention the headrest has side impact protection built right into the adjustable headrest?
Get the Maxi Cosi Priz Maz All-In-One Convertible Car Seat on Amazon here (note this is an Amazon Affiliate link)
The Best Toddler Car Seat for Smaller Cars
This actually should say the best toddler car seat for smaller cars and cars with multiple car seats! The narrow profile of the Chicco MyFit Harness + Booster Car Seat allows it to fit a bit better than many of its competitors.
It is forward facing, so your child has to meet the height and weight requirements to leave her rear facing seat, but if she's ready, this is a great option to take your child from toddler age to big kid age as it transitions from a five-point harness seat to a booster buckled in with the car seat belt.
Safety and impact features were top of mind when they designed this car seat as proven by the steel frame reinforcement and energy-absorbing foam that surrounds the head and torso.
And I love how the MyFit Harness + Booster has nine headrest positions and a four-position recline for ultimate posture and comfort! There is no reason you should have to sacrifice comfort for safety!
Get the Chicco MyFit Harness + Booster Car Seat on Amazon here (note this is an Amazon Affiliate link)
The Best Rear-Facing Toddler Car Seat with Extended Legroom
We now know that it is important to keep your child's car seat in the rear-facing position as long as is physically possible, which means until they reach the highest end of the height and weight limit.
Thanks to convertible car seats like the Graco Extend2Fit, keeping your car seat rear-facing is now easier and a whole lot more comfortable for your kiddo.
With the Extend2Fit your child can stay rear-facing up to 50 pounds and forward-facing up to 65 pounds. But the best part is the 4-position extension panel that gives children 5" of extra legroom! My kids both have super long legs, this would have been a game-changer for us!
This car seat is, of course, filled with safety features like being ProtectPlus Engineered™ which helps protect in frontal, side, rear, and rollover crashes.
Get the Graco Extend2Fit Convertible Car Seat on here 
The Best Travel Toddler Car Seat
When you travel you already have luggage to contend with. Adding baby gear to the mix loads you down further, so a lightweight portable car seat is the way to go for kids 2 and up.
The Way B Pico Portable Car Seat folds up nice and compactly, weighs just 8 pounds, and is car and airplane approved.
I love that while the Pico Portable Car Seat is super compact, it can be installed just like a regular car seat with a car's latch system or a car or airplane seatbelt! So, have peace of mind that your child is protected even though you aren't in your own car!
Get the Way B Pico Portable Car Seat here.
With that, I think you have plenty to think about! I hope this roundup of the best car seats for babies and toddlers helps you with your car seat search! And for more of our baby gear favorites stay tuned for our next Momtrends MVP's list…
For Previous Momtrends MVP's Winners, Follow the Links Below
Pin It!
Don't forget to save our go-to baby gear and follow along for more with our Pinterest baby board!
Momtrends MVP's is a non-sponsored series. Brands must meet our strict standards to be included. When naming winners we take several factors into account, including expense, convenience, and style.
We make our picks annually based on editors' research. In some instances, we may request and receive samples so that we can more thoroughly assess products. Our opinions are our own, and our goal is to help our community of moms make more informed decisions on everything from baby gear to beauty products to vacation destinations and more. We scour the abundant options and painstakingly hand-pick our favorites, so you don't have to. Our hope is that our most valuable players become your most valued purchases.